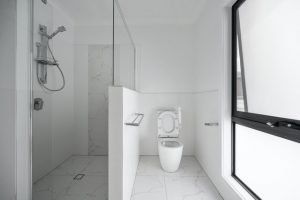 Let's face it: we ALL use the toilet. I know it's not the most pleasant of topics, but sometimes we just have to talk about it. The time leading up to and after a knee replacement is one of those times.
Toilet Related Things to Consider After a Total Knee Replacement
Are you able to have a bowel movement?

No matter how 'regular' you normally are, there is a good chance that you will become constipated at some point due to the anesthesia, post-operative pain medications, and a lack of movement. 

How will you physically USE the toilet?

The physical act of using the toilet is something that most people do not consider before having a total knee replacement, but it's not as easy to maneuver while keeping weight off your healing knee. 

Showering after a total knee replacement can be a bit difficult

. Before having surgery, it's a good idea to fit your bathroom with strategically placed handgrips around the toilet and in the shower to prevent slips and falls. 
Continue reading to learn how you can prepare yourself and your lavatory for when you come home from a total knee replacement.
Items to Ease Your Bathroom Experience
You'll be struggling to heal enough as it is. These items will ease your toilet troubles to help make your life easier after having a total knee replacement. These items will help create a safer environment and give you the confidence you need to move around on your own.
More Tips for Bathroom Safety
Don't Hold It
"Oh, I can hold it, I have plenty of time." Word of advice; don't wait till the last minute to head to the head! Trying to "hold it" will cause you to rush, and we all know that bad things tend to happen when we rush. The last thing you want is to fall on that freshly fixed-up knee. Even if you don't require more surgery, it will hurt like heck. Why risk it? Give yourself plenty of time to get there without having an accident…of any kind.
Sitting Down On and Standing Up From the Toilet
This is where the raised toilet seat with the armrests will come in handy. It may be one of the most useful items that you purchase. When you have knee surgery and you try to sit on the toilet, it puts stress on your knee as you try to bend it. This can be very painful and make your toileting experience even less pleasant. 
The best way to sit on the toilet is: 
Carefully back up to it 

Place your arms on the handles and slowly lower yourself to the seat

You may initially need to keep your knee straightened out in front of you

In some cases, you may wish to keep a stool close by to prop your leg on. 

When you are ready to get up, simply place your hands on the armrests and carefully pull yourself to the standing position.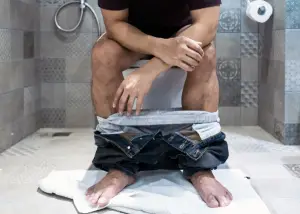 Shower Safely Without Slipping
Getting in and out of the shower is something that you may not think too much about it until you have to do it. Follow these recommendations for a safer shower experience.  
Invest in a good quality non-slip shower mat to reduce the risk of falling as you are getting in and out of the shower.  

Install handgrips or for an even safer option purchase, a shower seat with armrests. 

Consider using a shower chair to let you rest and safely clean 

Slowly enter and exit the shower by using your hand grips or by using the shower seat.
Within Arms Reach
Be sure that you have all of your supplies within arm's reach. You don't want to go through the effort of sitting down on the toilet only to realize that, Alas! There is no toilet paper! 
Now you have to struggle to get back up and hobble over to where you keep your supplies. Try to be proactive by setting up your supplies and commonly used items throughout your whole home so it is easier to access them.
Clear the Runway
Another very important thing that you need to do is make sure that you have a clear path to where you need to go in your home. You don't want to be heading to the bathroom and slip on a throw rug or get hung on something that is laying around in the hallway. Prepare your house before surgery so you don't have to do it after.
Make sure you have plenty of room to maneuver around without having an accident. Just remember, after you have surgery you are not going to feel like doing a whole lot and you probably won't be capable of rearranging your home. Prepare your space before surgery so you can come home to a safe and comfortable place to recover.
Proper Nutrition and Exercise Aid the Evacuation Process
There are things that you can do to prevent constipation. 
The first thing you need to do is stay well hydrated.  

Eating a well-balanced diet that is high in the proper nutrients is another way to keep things moving properly as well as it helps your body to heal after having surgery. 

The third way to help prevent evacuation issues is to keep your body moving. The longer you sit still the more difficult it will be to use the bathroom. 
If you are doing everything you should be and are still experiencing issues evacuating, then you may need to take a mild stool softener for a little while to get yourself regulated again. Talk to your doctor about which option may be best for you.
Planning Ahead Reduces Post-Op Complications
Other Great Rehab Related Articles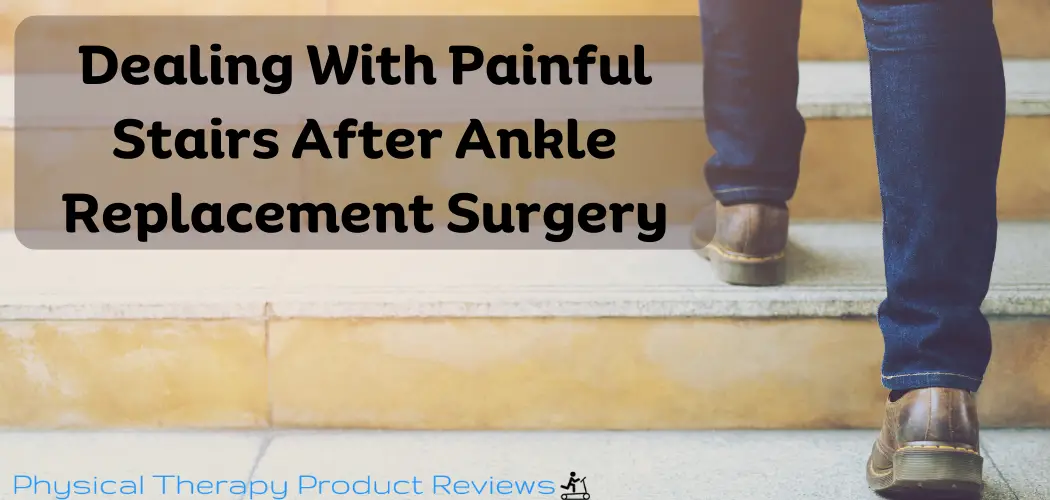 After undergoing an ankle replacement surgery, patients may experience pain when climbing stairs. The level of pain can vary from mild discomfort to severe pain, …
Disclaimer: The information provided in this post is for educational purposes only. This is not a substitute for a medical appointment. Please refer to your physician before starting any exercise program.