Foot pain stemming from an injury, overwork, or overuse is a common and debilitating symptom for many people. Pain in the heel can prevent you from enjoying a lovely spring day or getting the exercise you need to stay happy and healthy. Many people with this type of foot pain will keep themselves from walking even short distances, exacerbating the problem in the long run. Luckily you might benefit from the use of a heel lift.
For many individuals, leg length, the physical shape of your foot, and over use activities will be the biggest factors in determining if you ever get heel pain. People with high arches will often get the most pain in their feet as they get older, requiring new shoes more often or specialty shoes that help to correct posture.
Leg length may also be a factor in whether or not you will have chronic foot pain. Tendonitis may eventually develop and worsen symptoms without any corrective measures. Joint and tendon pain is typically the end result of untreated and uncompensated leg length discrepancy.
As well as this, individuals with scoliosis can have a harder time walking with a proper gait due to abnormalities of leg length and function, leading to some of the worst type of foot pain imaginable. Thankfully, there are many products and information available for people with all of these conditions.
What are Heel Lifts?
Heel lifts can be a beneficial item to help with rehabilitation for foot and leg pain.While there are many different types, basic heel lifts work to balance and keep both feet parallel to the ground so that proper healing can take place over time.
Gel heel lifts offer added protection against the shock of walking or running, as well as providing a cushy, comfortable heel area. Harder lifts are typically meant for those with posture or gait issues, and ensure that your legs are in tandem with one another while walking.
Do you have foot pain that won't go away? Check out the best shoes for plantar fasciitis to get rid of the pain
What Are the Benefits of Using Heel Lifts?
Scoliosis: due to abnormalities of the spine and posture associated with leg and foot pain
Achilles tendonitis: by reducing the amount of stress/weight on the heel of the foot with each step, the tendons are able to heal quicker. This can also help with Sever's Disease which is similar in presentation.
High Arches: by absorbing shock and weight distribution more effectively, thus preventing strain on your insole
General posture/gait: creating an environment of height distribution where your gait is more conducive to proper walking
With all of these conditions affecting millions of people across the country, there are many different kinds of heel lifts for all sorts of foot pain issues, most of them customizable to your liking to ensure that you're getting the most out of your investment.
Frequently Asked Questions Regarding Heel Lifts
What side should you put the heel lift in for leg length discrepancy?
You should place the heel lift in the side with the shorter leg. This will help make the pelvic and low back level and help with any postural injuries over time. 
Does a heel lift help with Achilles Tendonitis?
Absolutely. In the current research using a heel lift has been shown to decrease peak forces on the achilles tendon with walking. Using a heel lift is a great option in the first few weeks of the injury.
How often should I lower the height of a heel lift?
This depends on the injury and diagnosis. If you have a true length discrepancy then you should maintain the same height. If you have Sever's or Achilles Tendonitis then it should be a gradual lowering every 3-4 weeks.
The Best Heel Lifts for Foot and Heel Pain
Warwick Enterprises Adjust A Heel Lift
Summary: The Warwick enterprises heel lift has three layers of adjustable height, non-slip design for any shoe type and corrective posture issue. Practical and easy to use for those with heel and foot pain.
Pros: Fits shoe well after use, very conforming and comfortable with repeated usage. Adjustable layers provide options for customizing height of the heel insole.
Cons: Uneven tearing between layers can cause bumps in the lift sole.
Mars Wellness Adjustable Orthopedic Heel Lift
Summary: The Mars Wellness Adjustable Heel Lift has two removable layers of adjustment per pack made from quality rubber material. Perfect for posture correction as well as athletic and dress shoes to help with heel and foot pain.
Pros: Highly recommended for those with issues in leg length as the adjustable layer provides a personalized, individual-based heel experience. Comfortable and firm enough to withstand daily usage over time.
Cons: Lack of adhesive means that it is imperative to get the correct size before wearing these heel lifts.
4-Layer Orthotic Full Length Heel Lift Kit
Summary: The 4-Layer Orthotic Heel Lift is a special aerated design allows for maximum airflow in shoes up to size 9. Adjustable heel insole for taller individuals or those wanting a customizable posture.
Pros: Very breathable, conforming to sizes indicated. Evens out irregular postures and provides ample height adjustment.
Cons: More suitable to smaller, narrower feet than larger, wider sizes.
Summary: The SQHT Heel Lift conforming cushion adds over half an inch in height without discomfort or annoyance. Wide, honeycomb design ensures great fit for almost any shoe type.
Pros: Discreet height addition as well as ample shock absorption. Very breathable and comfortable to wear over long periods of standing and walking.
Cons: Can compress down more over months of use.
Silicone Gel Heel Cups by ViveSole
Summary: The Vivesole heel cups are a one-size-fits-all design able to alleviate foot and heel pain due to plantar fasciitis, tendonitis, and other conditions. Odor resistant and conforming gel work with any foot size and type. These insoles are excellent for adolescent kids that have sever's disease because they are less stiff.
Pros: Great for moderate heel pain and those looking for a thrifty, ergonomic heel cup. Much more substantial and comfortable than cheaper products.
Cons: Won't get rid of the worst types of pain, slides around in larger shoe sizes.
Conclusion:
Naturally, it is most beneficial to talk to your general practitioner about heel lifts to see if they would work for you and your condition, or even if you have had foot and heel pain for many years. You will be able to get the care you need for whatever situation is most applicable to you.
Works Referenced:
Other Great Rehab Related Articles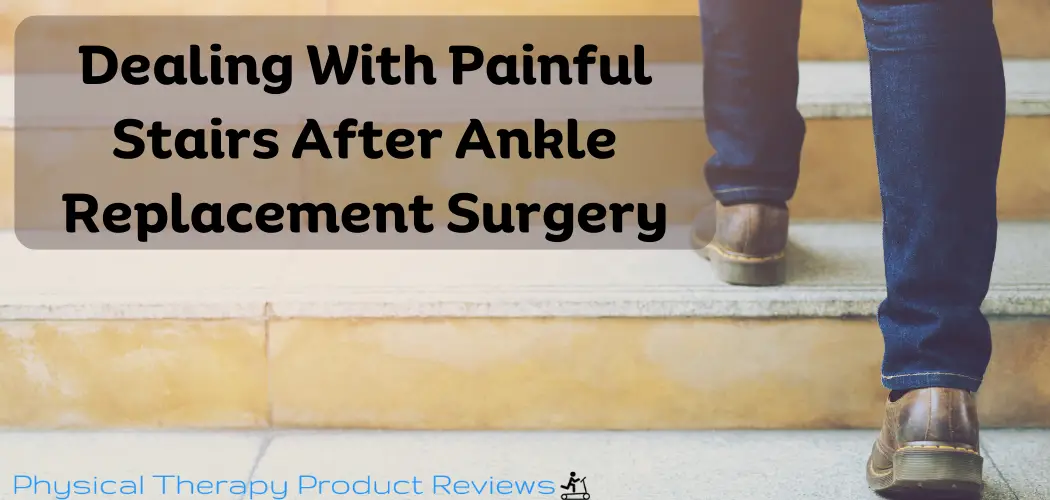 After undergoing an ankle replacement surgery, patients may experience pain when climbing stairs. The level of pain can vary from mild discomfort to severe pain, …
Disclaimer: The information provided in this post is for educational purposes only. This is not a substitute for a medical appointment. Please refer to your physician before starting any exercise program.