Rowing Machines Under $500 For Home Use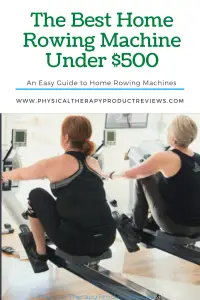 A rowing machine is a piece of indoor exercise equipment that mimics the movement of rowing a boat. In a study from the English Institute of Sport, researchers found that the rowing machine engages 86 percent of the muscles in your body. There is a large misconception that only your legs are utilized by this workout, but according to the American Fitness Professionals Association, (AFPA), the rowing stroke consists of 65 to 75 percent leg work and 25 to 35 percent upper bodywork. It is a low impact workout that is great for your arms, back, legs, glutes, and core. Using a rowing machine burns more calories than a treadmill or elliptical, and has been stated to feel less taxing than exerting the same effort on a bike.
What are more Benefits of using a Rowing Machine?
If you are looking for a convenient home workout that simultaneously builds muscle, burns fat, with aerobic benefit, then look no further. The rowing machine is seeing a new resurgence of followers due to the benefit of being able to do a cardio and strength-based workout, without fear of getting injured. Another health benefit is improved posture repetitively staying upright as during the pull portion of the stroke. This will help reverse the negative effects of hours of sitting hunched at a computer. Rowing is a lifetime sport that can be done at any age, any vision ability, and any fitness level. Due to the low impact nature, rowing is a great option for active recovery. Having a rower at home makes it easy to work out when convenient as before/after work, at lunch, during your baby's nap, during a conference call, and even in your pajamas. It is time-efficient and doesn't take long to get a great workout. 
What are the Different Types of resistance and what to look for in a Rowing Machine?
There are five different resistant types of rowing machines, including air, hydraulic-piston, magnetic, and water. The most recent addition is a combination of air and magnetic. Choosing the resistance type is the most important rower decision, as it impacts the rower size, price, noise-level, and storage options. 
Air-Resistance Rowing Machine
Get their resistance from a spinning fan flywheel. The resistance is variable depending on how hard or fast the user pulls the handle. Great for HIIT, high-intensity interval training, and closely simulates outdoor rowing. The footprint is large and the noise from the air is the loudest of all the resistance types, but they are often made to fold in half for storage. 
Hydraulic-Piston Resistance
uses pistons and is adjustable with a knob through multiple levels. Not as smooth of resistance as other options, but are quiet and available at a lower price-point. If the pistons are hot for a long time, they have been known to overheat and leak oil, so this resistance version is best for a beginner and athletes should entertain another resistance option. Hydraulic-piston resistance versions are quiet and have a smaller footprint. 
Magnetic Resistance
Uses magnetic brakes to create resistance and is adjustable with a knob or button. It often has a lower resistance maximum, not as smooth as the air-resistance rower, but is quiet. It also has a large footprint with options to fold the unit in half for storage.
Water-Resistance Rowing Machine
Feels very smooth and most closely simulates rowing a boat. The resistance is variable depending on how hard you pull the handle, and how much water is in the tank. Many people find the noise of the tank water 'whoosh' relaxing. The noise level is between air resistance and magnetic resistance. The footprint is large and they are at a higher price point. 
The Hybrid Air/Magnetic Resistance Rowing Machine
This rowing machine has benefited from both resistant varieties. It is not as realistic and smooth as the air-resistance option, but it is much quieter and sits at a lower price point. Another bonus is it has a stronger resistance than the magnetic resistance alone. 

Want to add more to your home gym? Check out our reviews on the best upright bikes for home use to complete your home setup.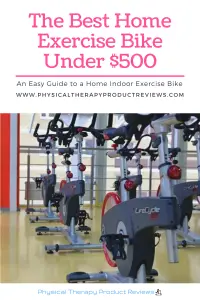 Other Recommended Features Are:
An LED/LCD screen that keeps track of your progress. An LCD screen has higher visual clarity but an LED's screen benefit is long life even with the vibrations often present on exercise equipment.

Regardless of either screen choice, preferred screen features are a size that is needed to display all preferred information such as time, speed, total strokes, stroke per minute, and distance.

A screen that is lit for easy reading when rowing in low light conditions.
How to Setup a Rowing Machine
The Best Rowing Machine for Home Use
Merax Rowing Machine Indoor
Summary: The Merax Rowing Machine has 8-Level adjustable magnetic tension resistance, a smaller footprint at 80.3" length x 18.9" width x 31.5" height with an adjustable LED display that can be cycled to display time, stroke, distance and calories burned. 
Pros: Quality parts, and easy to assemble with great directions. Quiet operation, multiple tension options with a small footprint. Perfect to store without the need to fold in half. 
Cons: For the more athletic rower, the tension of 8 may not be enough.
Sunny Health & Fitness Magnetic Rowing Machine
Summary: The Sunny Health and Fitness Rowing machine has an adjustable 8 level magnetic rower with an LCD Monitor, transportation wheel, and foldable for easy storage, with an extra-long rail for rowers of all heights.
Pros: Assembly was quick about 30 minutes and directions were clear. Good value for the money.
Cons: The rower is currently available. Plastic does squeak as the seat moves back and forth. Some customers have had display problems and magnet slippage.
ShareVgo Smart Home Rower
Summary: The ShareVgo rower has a foldable 8-level adjustable magnetic rower, comfortable large seat, a Bluetooth LCD monitor, and notifications of accomplishments and social ranking with community members. 
Pros: Provides value for the money, folds up easily, setup is simple, and the Bluetooth app collects training stats and has fun challenges. 
Cons: The rower is currently not available. Lower resistance levels 1 to 3 are too low for most people.
SereneLife Magnetic Rowing Machine
Summary: The Serenelife magnetic rowing machine has an 8-level adjustable resistance magnetic rowing machine, a digital LCD monitor, with a Bluetooth app to collect training stats.
Pros: Easy to put together, comfortable, and a good value for the money.
Cons: This rower is currently unavailable. Users have had problems getting the Bluetooth and app to work properly. LCD screen's level of brightness is hard to read.
Circuit Fitness Folding Magnetic Rowing Machine
Summary: The circuit fitness folding magnetic rowing machine has an 8-level adjustable rower with an LCD Screen, transportation wheels for easy mobility from room to room, and foldable for easy storage.
Pros: Most said easy to assemble, and a shelf for a tablet or book, 
Cons: Not sturdy and for some more resistance is needed for a tougher workout.
Disclaimer: The information provided in this post is for educational purposes only. This is not a substitute for a medical appointment. Please refer to your physician before starting any exercise program.