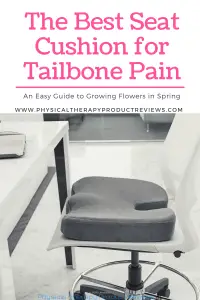 Sudden pain around the tailbone area often comes unexpectedly and quickly becomes a limiting factor to our physical movement. What used to be a normal daily action now requires effort, often resulting in pain. Moreover, sitting becomes a painful experience. In most cases, tailbone pain is the result of trauma or habitual sitting on an unpadded surface. And proper tailbone functionality is crucial because it assists the body by stabilizing our weight while we sit. The coccyx, or tailbone, doesn't only provide stability for the body, but also serves as the linking point for lower body muscles that support leg movement. When the tailbone is injured, the pain worsens with even the slightest movement. One way to ease tailbone pain is to take the weight of your body off the tailbone. This can be achieved with the use of a special seat cushion.
What is a Seat Cushion for Tailbone Pain?
A seat cushion for tailbone pain is well-padded and specifically cut to provide maximum comfort while a person is in the sitting position. This is usually a rectangular cushion, averaging from 3 to 7 inches thick, that is cut out to form a U shape, where the tailbone rests. The memory foam allows the cushion to adjust to your shape and keep its form.
How to use a Seat Cushion?
Using a seat cushion is simple and if used with regularity, you will begin to see a difference in your overall tailbone comfort. Just make sure to keep it in your work area or where you sit most. And don't forget that consistent use is key to tailbone pain relief. Most cushions are designed to be both comfortable and convenient. In fact, for the sake of convenience, many cushions have little handles sewn to the side so you can carry it around. And when you feel like the cushion needs a little cleaning, just slip the removable cover off and toss it in the washing machine.
Who Would Benefit from Using a Seat Cushion?
Whether your tailbone pain is temporary or has been the source of ongoing discomfort caused by an injury, the use of a seat cushion will, in most cases, relieve this pain.
Pregnancy
Chronic back pain
Injury or fall onto the tailbone
Childbirth
Things to Consider when buying a Tailbone Cushion?
Pressure Relief
When choosing among the multitude of tailbone cushions on the market, keep in mind that the main goal is to relieve the coccyx of pressure. So the shape and design of the cushion are very important. There should be hollows on either side of the cushion, specifically designed to cradle the buttocks. And the center back of the pillow should form a U shape to support the tailbone.
Amount of Cushioning
The amount of cushioning is crucial to the overall comfort of your sitting experience. You want to make sure that the cushion is heavily padded in the center where it will support the gap between your legs. With mild padding, your weight will be distributed to both of your hips and coccyx, keeping the discomfort at its initial level. The extra padding reduce pressure and alleviates the pain.
Ease of Cleaning
Eventually the cushion will get dirty or stained, and you will want to give it a little cleaning. That's why choosing a cushion with a removable, machine-washable cover is the optimal choice. That way the delicate memory foam will not be exposed to machine washing that can literally destroy it.
Durability
Ideally, a tailbone cushion should serve its purpose for a long period of time without deforming. But sometimes, the quality of the cushion leaves much to be desired. To avoid additional expenses, choose a cushion sturdy enough for daily use. A cushion of high quality and durability will go a long way.
Size and portability
A cushion too large to be carried around while traveling may discourage its use as a whole. So when choosing from a multitude of tailbone cushions, look for one that comes in a size that is suitable for traveling.
The Best Seat Cushion for Tailbone Pain
ComfiLife Gel Enhanced Seat Cushion
The ComfiLife Gel Enhanced Seat Cushion is composed of gel memory foam that provides maximum tailbone support and pressure relief. The cushion's gelatinous make-up allows it to comfortably envelop the area around the buttocks and tailbone.
Pros: A thin layer of rubber lines the bottom of the cushion making it slip-proof and the micro fiber is topped with gel that has a cool-off property.
Cons: Light cushioning, may not be enough for the absolute severe injuries
Coccyx Orthopedic Memory Foam Seat Cushion
The Coccyx Orthopedic Memory Foam Seat Cushion supports the tailbone while improving blood circulation and assisting in spine alignment.
Pros: The shape of the cushion makes it a multi-purpose cushion; it can be used in a seat or on the floor during activities like yoga and meditation. The cushion's durable nylon cover is not only washable but also promotes air flow for a comfortable sitting experience.
Cons: Minor hollows for the buttocks.
5 stars United Seat Cushion
The 5 stars united seat cushion's ergonomic design relieves your spinal discs of pressure and helps with muscle tightness. The cushion is almost 3 inches thick and more than 17 inches wide, allowing it to cover a large area of your seat.
Pros: The memory foam gently adjusts to the natural contours of your body and relieves back pain effortlessly.
Cons: Relatively large size.
Everlasting Comfort Seat Cushion
The Everlasting Comfort Seat Cushion is recommended by orthopedic surgeons for targeting coccyx pain and discomfort. The U shape of the cushion helps reduce pain in the back, hips, and legs.
Pros: The cushion responds to body heat, regulating the temperature accordingly. And you do not have to worry about the cushion sliding out of place because it has a rubber, non-slip bottom.
Cons: May not work for all drivers as it raises you in the seat by several inches.
Villsure Memory Foam Seat Cushion Gel
The Villsure Memory Foam Seat Cushion Gel is a cushion that will mold to your shape and is perfect for those working in an office. The carrying handle allows you to carry it along anywhere you go.
Pros: Unlike chair pads, the U-shaped cushion distributes the weight of the body evenly. In addition, the gel memory foam cushion comes with two machine washable covers; one to keep you warm and cozy during the cold months, and the other for maximum comfort in the summer.
Cons: May seem too firm for those who prefer softer cushions.
Conclusion:
Life is life, and sometimes it includes falling and getting injured. Sometimes injuries are a result of sport activities, while other times we just happen to slip and fall. And the tailbone is most susceptible to trauma when we fall. Tailbone pain can be excruciating and sitting down will only make it worse. To alleviate this pain, it's important to use a coccyx cushion whenever you sit down. By using the cushion, you will not only support your tailbone, but also improve your posture and reduce pain in the legs.
Disclaimer: The information provided in this post is for educational purposes only. This is not a substitute for a medical appointment. Please refer to your physician before starting any exercise program.