Myofascial Release is a fancy term for putting pressure in all the right places to relieve pain or improve range of motion in the myofascial tissue. It's a type of hands-on therapy used to provide relief after trauma to the tissue, inflammatory responses, or even surgery. There are different methods, but they all involve physically applying pressure on the tissue.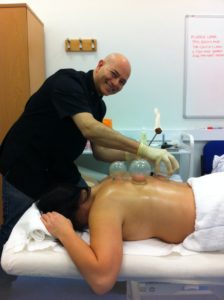 One method of Myofascial Release is cupping. It's been around since the Egyptian and early Chinese civilizations. With its many therapeutic benefits, it's no surprise it's still practiced today. Myofascial cupping is a type of therapy that uses carefully placed cups to cause increased blood flow and circulation to the tissues of your body. It may seem a little simplistic, but it has many health benefits and can provide relief from pain and tension in the tissue. During treatment, cups are placed on the back, shoulders, abdomen, and extremities.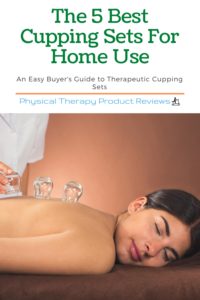 Cupping sets are made out of bamboo, bronze, ceramic, silicone, or glass. Sets come with different numbers and sizes of cups and can be used at home or by a specialist. The cups use suction to create pressure, like a vacuum. Professionals often use a burning wick to create the suction, but most at home kits have an electric or hand pump for suction. 
Cupping uses negative pressure to activate the lymphatic system, draw out toxins, and increase circulation. Once the cups are placed on the skin, little wicks of cotton are lit. The burning of the wicks creates negative pressure. As the wick burns, the cups are moved along the body and briefly rested on trigger points for relaxation. More modern cupping sets replace the burning wicks with a suction device.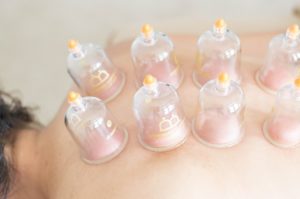 It's common to have raised red bumps or light bruises after a treatment. Placement, movement, and timing are all key, so it's important to do some research before trying this at home.
What are the Benefits of using a Cupping Set?
Cupping for Myofascial Release: 
Stimulates inhibitory neural pathways

– Creates synergy between the mind and body

 

Alters pain thresholds

– Although it can be uncomfortable during the session, it alleviates pain in the longterm

Promotes blood circulation

– the heat, in addition to the suction, brings blood to the surface of the skin

Relieves swelling

– With increased circulation and the addition of heat, cupping can help to treat ongoing injuries

Increases tissue temperature

– Through friction and fire, the tissues are warmed, promoting relaxation and the breakdown of tight muscle tissues 

Eliminates toxins

– By activating the lymphatic system, cupping helps to eliminate toxins from the body

Increases joint flexibility

– Due to increased circulation and decreased swelling, joint flexibility and rotation can be improved

Reduces Adhesion to muscle tissues

– The heat and movement breaks up those crinkly, hard muscles, and promotes relaxation. 
How to Use Cupping Therapy for Pain Relief
The Best Cupping Sets for Home
Summary: Then Ks Choi Cupping set has 19 plastic cups and a suction device.  These cups are shockproof and heatproof. The plastic is the same used in baby bottle production, making it durable and easy to clean. This cupping set comes with a carrying case and weighs just 3.15 pounds for easy transportation. 
Pros: This set comes with several different size cups and the suction device works as it should.  
Cons: Because the cups are plastic, they must be used with the suction device, and can't be used for fire wicking. Although the description says they can be boiled, the instructions received with the set say otherwise. They are hard to sanitize since they can't be boiled.
Professional Cupping Therapy Set by Myofascial Releaser
Summary: This Professional Cupping Therapy set is an 18 piece plastic set and two hand pumps for suction. The set has a variety of sizes, including smaller cups for the face. This set is professional grade but comes with an informational booklet about cupping that includes instructions on how to use the set. It also comes with a carrying case and is made to be durable. This set has magnet attachments for the cups for added therapy benefits. 
Pros: The set comes with an additional pump, the instructions make it a good starter set, and the cups are cushioned for comfort. Many customers complimented the professional look and feel of the set. 
Cons: The hand pumps do not provide professional-grade suction.
Summary: This set includes 22 multi-sized plastic cups, one hand pump, an extension tube, a gua sha scraping tool, and massage oil. The company also offers a 3-month refund or replacement warranty if you're not satisfied with the quality or function of the set. 
Pros: The number and variety of cups are nice, the hand pump provides great suction, and the company offers a good warranty/return policy. While the set is plastic, it seems durable enough. 
Cons: The plastic cups are harder to clean than glass cups.
Hansol Cupping Therapy Set
Summary: The Hansol Cupping Therapy Set includes 17 plastic cups of two sizes. It comes with a carrying case and a manual pressure pump. It should be noted that this set is not meant to be used for the slide technique of cupping or with any oils. The set weighs in at just 2.87 pounds making it lightweight and travel friendly. 
Pros: It's lightweight and the extension hose makes it easy to use on yourself. 
Cons: This set is not a professional-grade and the plastic doesn't last through multiple uses. It's best for light, occasional use.
Kangzhu Biomagnetic Cupping Therapy Set
Summary: The Kangshu Biomagnetic Cupping set is a 24 piece set with various cup sizes, a  manual pump, and extension tubing. It also includes removable magnetic needles for pressure points. The edges of the cups are smooth for comfort and each cup has an easy to use pressure release valve. 
Pros: This set is good for beginners and the added magnetic aspect is a nice bonus. 
Cons: The pump and tube are prone to failure and need replacement at additional cost. The plastic cups break after heavy use, so may not be the best option for professionals.
Other Great Health Related Articles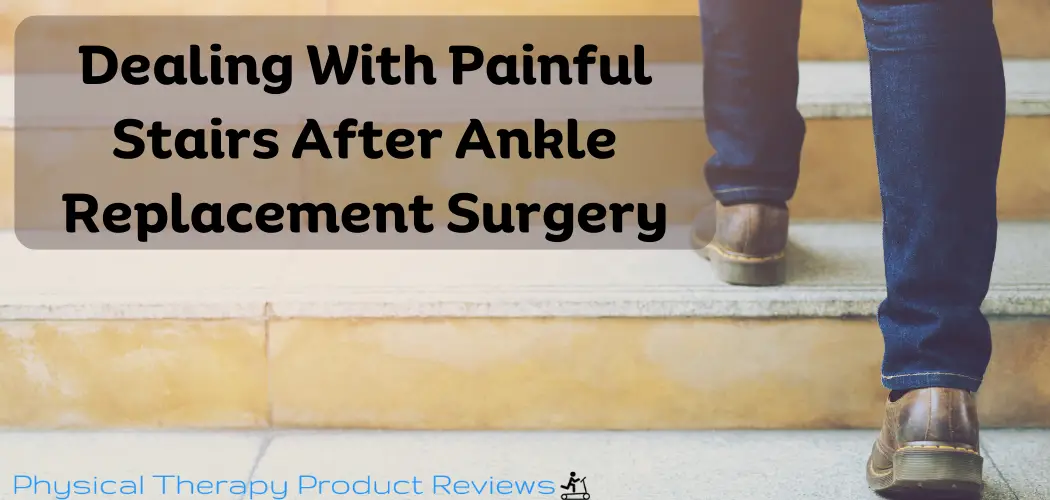 After undergoing an ankle replacement surgery, patients may experience pain when climbing stairs. The level of pain can vary from mild discomfort to severe pain,
Disclaimer: The information provided in this post is for educational purposes only. This is not a substitute for a medical appointment. Please refer to your physician before starting any exercise program.