Physical therapy is a rewarding career in the medical industry. If you're wondering if it's the right path for you, consider this:
Physical Therapy is consistently ranked as one of the best jobs. It recently ranked

as #15 overall by US news

.

It has a consistently high job satisfaction

Low stress for the medical field

Great hours for work/life balance for families, friends, and weekends
There are many things to love about being a physical therapist, but there are also some things that make me pull my hair.
Sounds like most jobs right? In this post, I'll break down all of the pros and cons of being a physical therapist so you can decide if it's the right career choice for you.
What are the Pros of Being a Physical Therapist?
One of the best parts of being a Physical Therapist (PT) is that you get to help people every day. It's truly rewarding to see some of the changes you help make in your patient's lives.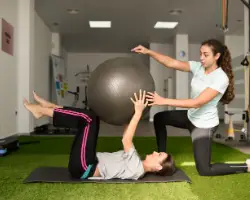 Whether it's getting someone back on the field for their senior season of baseball or helping an elderly person gain enough strength to maintain their independence and live at home, it feels great to help. 
Most people are kind, grateful, and a joy to work with. You'll create lasting relationships within the community and connect with people regularly. It's perfect for extroverts who thrive on regular social interactions. 
Unlike at a desk job, as a PT you're constantly moving. There's a reason most physical therapists wear tennis shoes and comfortable clothing to work. It's hard to wear a suit when you're demonstrating squats and lunges to a patient. 
If you love working with tech, don't worry. You're still near a computer at all times for billing and taking notes, you just won't be tied down to a desk all day.
There are many different areas of physical therapy. You can decide to specialize in one area or break up the day by working in multiple units. 
As a Physical Therapist, you can: 
Work as a wound specialist

Work in sports medicine

Work in nursing homes

Become a pelvic floor therapist

Work in a hospital setting

Assist in emergency rooms

Be a home health therapist
The variety is refreshing and breaks up the monotony that can come with other careers.
Low Stress(for the medical field, anyway)
Compared to other medical careers, you leave most of your work stress at work.  Once you finish your documentation for the day, you're done. You won't have to worry: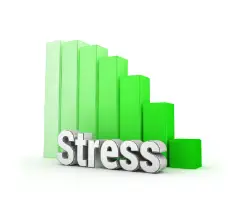 If your surgery was a success

If you prescribed the right medication

About checking your cellphone when you're on call. 
As with all jobs, some stress will happen, but overall it's on the lower side.
Physical therapists typically work during normal business hours. In most settings, the hours stay the same from week to week. You can be home for dinner and spend time with the family. You'll make it to the bank, drop the kids off at daycare, and have weekends off. 
Some clinics are open on Saturdays, but it's not the norm. Unlike with other medical professions, there aren't too many emergencies for a Physical Therapist. You'll set your schedule and stick to it.
The quote, "I'll never be rich but I'll never go hungry." comes to mind. The average salary according to zip recruiter is around $89,000 a year. Your pay will depend on your location within the US and your experience. 
While $89k is nothing to sneeze at, it's a little on the low side for a Doctorate level of education that requires 7 years of secondary schooling. 
Don't expect to start at $89k right away. Many new graduates are starting around the 55-60K a year mark. 
Think about location, too. Colorado is oversaturated with Physical therapists, so the pay is quite a bit lower. On the flipside, in states such as Nevada where it's hard to keep staffing full, you can expect to be on the higher end of the scale. 
If staying in one place isn't your thing, you can earn more as a traveling physical therapist and home health therapist than you will as an inpatient or outpatient orthopedics therapist.
A Day in the Life of a Physical Therapist
Con's of Being a Physical Therapist
This is a Doctorate level profession with the college costs to match. The starting and average salaries aren't quite up to par with other medical professions. This mismatch only seems to be getting worse. Starting salaries are low and a good chunk of your paycheck could end up going to your loans early on.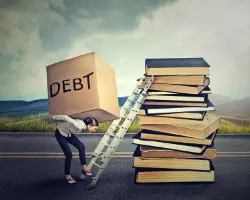 According to the National Physical Therapy Organization, nearly 9 in 10 physical therapists are graduating with student debt at an average of $152,882. Think about how this could delay financial milestones such as: 
Buying a house

Starting a family

Saving for retirement. 
There are programs and plans to help with the large loans, but it's something to consider before enrolling in a program.
Shrinking Reimbursement and Medicare Cuts
Insurance reimbursement is decreasing for Physical Therapy services. Most insurance companies are requiring pre-authorizations for treatments, allowing fewer visits per year, and paying less for those visits. It's hard to increase salaries yearly to match the cost of living when reimbursement goes down. 
Medicare, which covers those 65 and older, is the largest insurance for Physical therapy and is scheduled to do a 9% cut across the board starting January 1st, 2021. Shrinking reimbursements and cuts from insurance companies are forcing therapists to get creative by offering cash-based services (which favors the wealthy), seeing more patients in the same amount of time, or even seeing multiple patients at once in some cases.
The Customer's Always Right (and in Pain)
Helping people in pain is one of the most rewarding parts of being a Physical Therapist. However, as in any profession, you'll encounter difficult clients. People in pain tend to be more cranky and irritable. They need immediate relief from that pain, and until they get it you're the closest person to take the frustrations out on. This gets worse when you have to spend 45 minutes to 1-hour with them one-on-one.
Emotionally and Mentally Taxing Days
The mental and emotional drain that physical therapists experience is real. People come to therapy in physical pain, while also experiencing a huge mental and emotional toll on their life. They're looking for you to be a sympathetic ear for the next 45 minutes. Any good Physical Therapist realizes this and uses different techniques to use the emotional/mental aspects of the situation to help heal the physical, but this doesn't make it any less taxing.
Repeat this 10-14 times a day and by the time you get home, you realize how mentally exhausted you are after giving empathy to every patient. It's difficult to not take that home at night. Some patients will fill up your energy cup and some drain it, but it's best to be mentally prepared for it going into the job.
Productivity standards in PT go hand-in-hand with the shrinking reimbursement rates which are currently trending in the wrong direction. Productivity isn't unique to the PT profession by any means. PT's are being asked to see more patients and generate more revenue in the same 40 hours a week. This creates a few problems:

A decrease in quality care

Less individualized care

You become a cog in the wheel and don't get to critically think

It eats into your work-life balance because documentation and brain drain bleed into home time
Some PT's work in clinics that see patients every 15 minutes. In these clinics, the PT does massage and hands-on work then pushes the patient down the line for someone else to do exercise. That's upward of 32 patients that you are working on by the end of the day. Imagine how tired you are then! 
This is an extreme example but it is slowly becoming more and more common. According to WebPT which is one of the leading EMR systems for Physical Therapy, nearly 22% of therapists see more than 17 patients a day.  This isn't the type of clinic that focuses on quality of care, instead, its priorities are making as much money as possible. 
This is also a main cause for the overall job satisfaction decreasing for physical therapists. Overall satisfaction amongst therapists is still higher than 60%, but this is the first time in over a decade that the trend is starting to decrease overall
Limited Room for Career Growth
In any career, the ability for growth is an important part of job satisfaction. The greatest area of growth in physical therapy is easily the growth of knowledge. When you graduate from school you are taught how to be safe and have a very basic foundation of rehab skills. You will learn more outside of school than you do during school with continuing education and pursuing areas of interest. This is greatly satisfying but not enough overtime to prevent burnout.
However, PT's career growth stalls quickly. As a physical therapist, you can become a clinic manager, director, or hopefully a clinic owner. The low career growth and income ceiling are commonly listed near the top of the greatest frustrations for the profession. It's also why a large number of therapists are looking for a different career path.
"Many therapists were initially attracted to the PT profession because they're caring, driven, and conscientious professionals. When these idealistic PTs enter the workforce and experience the current climate of unrealistic productivity demands, unethical billing policies, and glass ceilings, some are eager to form a plan B."
– Meredith Castin, PT, DPT Founder of The Non-Clinical PT
Other Great Health Related Articles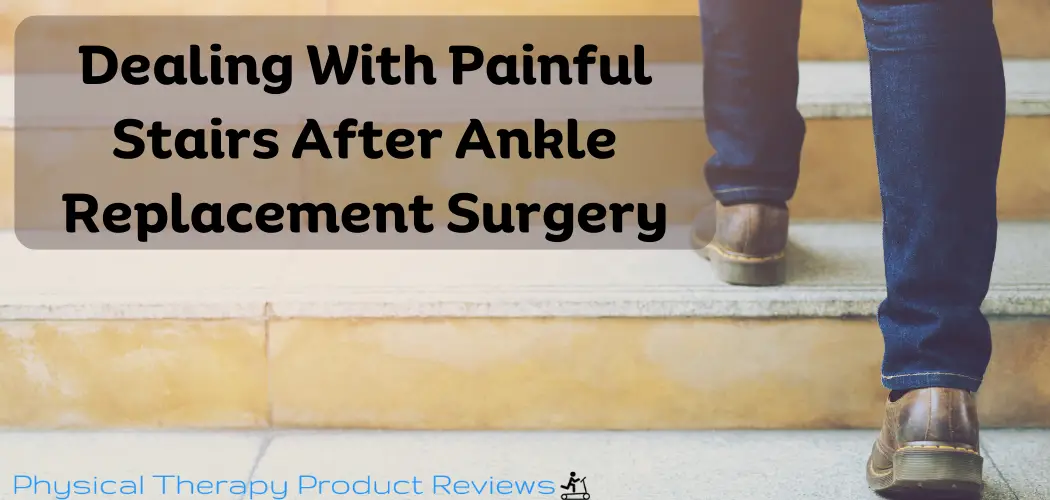 After undergoing an ankle replacement surgery, patients may experience pain when climbing stairs. The level of pain can vary from mild discomfort to severe pain, ...
Disclaimer: The information provided in this post is for educational purposes only. This is not a substitute for a medical appointment. Please refer to your physician before starting any exercise program.