Stretching Straps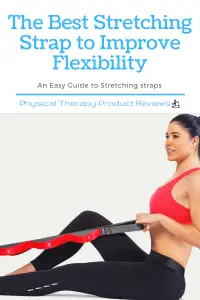 Injuries are super common both in sports and daily activities, especially when we don't have time to properly nurture our bodies. Often, our busy lives don't accommodate the extra self-care our bodies really need. One of the best ways to promote muscle and joint health is stretching, as it keeps muscles strong and flexible. This flexibility aids in joint rotation and ensures continued mobility (even as we age). Stretching itself doesn't take long and is important to do on a regular basis. One of the best ways to get more out of the activity is to use a stretching strap.
What is a Stretching Strap
A stretching strap is a professional-strength woven strap (typically nylon) with loops at the ends, used to target the stretching or activation of specific muscles or muscle groups. Itusually has many loops built within the strap that allows feet, hands, or other body parts to be inserted and stretched in various ways. It's a perfect tool to help get more motion and into new positions that you otherwise couldn't stretch into.
What are the Benefits of Stretching?
There are so many benefits to regular stretching regardless of your age or level of activity. Loosening tight muscles does so much more than allow us to touch our toes.
Stretching consistently means:
   

  Increased flexibility (a no-brainer, but still important!)

      Increased range of motion

      Decreased stiffness and muscle spasms

      Better circulation from increased blood flow

      Better posture

      Loose muscles that are less achy after workouts

      Back pain prevention and relief

     

Stress relief (shares many of the same benefits as meditation)

     

Possible reduction of injury risk
Who Would Benefit from a Stretching Strap?
Almost, everyone would benefit from a stretching strap. Whether you're working on your contortion act or recovering from knee-replacement surgery, stretching is beneficial to everyone's health, and stretching straps are purposefully made with various loops for different capabilities. They are particularly beneficial after surgeries, after an injury, or to use after a sporting even to increase flexibility.
Who shouldn't use a Stretching Strap?
In general, most people benefit from stretching howevere there are few groups that should wait or not stretch at all:
Anyone with an open or healing wound

Anyone with a connective tissue disorder such as Ehler's Danlos Syndrome

Anyone with a history of re-occurent joint dislocations
How To Stretch Effectively
To get your stretch on effectively, and without injuring yourself, make sure to start with a gentle warmup. A short walk is perfect—the idea is to get the blood flowing a bit and wake up the muscles before we pull on them. When stretching, hold for ten to thirty seconds. Don't bounce! Instead, ease into the stretch and stop pushing when you feel tension. This should not be extremely painful. (If you're injured or have other conditions, check with your doctor to see if there's any movement or stretch you should avoid.) Ideally, you should do this a few times a week, even if it's just ten minutes. The key to increasing flexibility is consistent practice. Always try and hold your stretches for 30 seconds or longer to get the greatest benefit.
How to Use a Stretching Strap
Do you have trouble getting your knee straight? Want more exercises and tips to improve knee extension? See our guide on improving knee extension after an injury or surgery.
The Best Stretching Straps To Increase Flexibility
Gradient Fitness Stretching Strap
The Gradient Fitness Stretching Strap has eight feet of premium nylon webbing with twelve separate loops and two neoprene-padded handles.
Pros: Includes storage bag, an exercise poster to hang on the wall, extra loops for customized stretching, extra padding, multiple color options
Cons: Heavier and bulkier than other straps, may potentially rub skin more because of the thickness and padding
CTRL Sports Stretching Strap with Loops
The CTRL sports stretching straps is made of high quality nylon stretch straps with numbered loops to track progress and ultra-comfort neoprene handles.
Pros: Numbered loops for self-monitoring positions and tracking flexibility progress, options for colors and number of loops
Cons: Stretching guide only includes six exercises
The Original Stretch Out Strap
The Original Stretch Out Strap was one of the first stretching strap to arrive on the market (in other words, the original). It consists of 6'4'' of woven nylon with ten individual loops for targeting different areas of the body.
Pros: Comes with a comprehensive booklet of exercises and positions, recommended by physical therapists, solid and durable construction
Cons: No color or size options
SANKUU Yoga Stretching Strap
The SANKUU Stretching Strap is eight foot, long-lasting-nylon straps with twelve soft loops, travel bag and mini exercise book.
Pros: Lower price than most competition, twelve-exercise instruction booklet
Cons: The nylon material can be slick, complaints have been made about the texture of the straps themselves
A AZURELIFE Stretch Strap with 11 Loops
The A AZURELIFE stretching strap is smaller, at only 68'' by 1', with two connected webbings, non-elastic (polyester fiber) and elasticated rubber thread, to create a greater range in tension
Pros: Lowest price, rubber center can help the straps stay in place
Cons: Not everyone wants elasticity because it changes the nature of the stretch
Disclaimer: The information provided in this post is for educational purposes only. This is not a substitute for a medical appointment. Please refer to your physician before starting any exercise program.