The Best Elbow Brace for UCL Injuries in Overhead Athletes
One of the most common injuries in overhead athletes is to the Ulnar Collateral Ligament (UCL).  The UCL is on the inside of the elbow and helps stabilize
the elbow, particularly during activities with our arms above our head and away from our bodies (i.e throwing). Injuries to the UCL can be career threatening in certain sports,
especially to the dominant arm of the overhead athlete such as baseball players or racket sports. One of the age groups with the greatest increase in UCL injuries is the 15-24 year olds. UCL reconstruction surgery in the same age group has increased 6x over the past 20 years (1). This rate is also expected to continue to increase through 2025 (2). That is an alarmingly high injury rate for teenage and young adult athletes!
What is the Ulnar Collateral Ligament (UCL) :
The UCL is a ligament that lies on the inside of the elbow. It crosses the elbow joint connecting the upper arm to the bones of the forearm. It also provides the primary stability to the medial elbow. That means that during high velocity movements such as pitching or serving a tennis ball, it provides the primary support to the elbow. This allows use to produce large forces in the arm to hurl a ball 100 mph.
Ulnar Collateral Ligament
What are the Causes of an UCL Tear
UCL tears in the overhead athlete are most commonly causes by repetitive high force movements such as a pitching. Tears may start as small or micro tears in the tendon and with consistently high forces, may become worse. The overhead athlete may have a gradual onset of pain throughout the game or there may be a single event that causes a greater injury after the ligament has sustained enough micro trauma from earlier events. These are most commonly diagnosed as elbow sprains. Baseball pitchers develop nearly 2480 deg/s of elbow angular velocity whilst throwing (4)! That's a large force on a relatively small ligament of the elbow.
UCL tears can also be caused from a traumatic event such as falling out an outstretched arm or a FOOSH injury. If the force of the fall is towards the inside of the elbow this may cause damage to the UCL ligament.
What are the Symptoms of a UCL Tear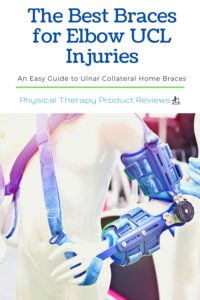 UCL tears will often present with pain and tenderness that is primarily localized to the inside of the elbow joint. It may be described as a deep ache or simply "looseness" about the joint. Pitches will often complain of an unexpected drop in throwing velocity with a sore elbow.
Other common complaints are:
Giving out or repeated looseness in the elbow – such as getting out of bed or a chair

Weakness with overhead activities, especially high velocity movements such as throwing

Nerve type symptoms – burning, tingling, numbness around the funny bone area

A drop in throwing velocity or serving power in racquet sports

Pain with pressure on the elbow such when eating or resting the elbows on a surface  
UCL Tear Treatment Options
The treatment options for UCL tears depends on the age of the person, the severity, and of course the specific goals for the person. In general, the younger the person is the less severe the injury will likely be (3). The people who were younger at time of injury were also less likely to have surgery to repair the ligament.
Tommy John Surgery
The surgery performed is called Tommy John surgery after the pitcher who the procedure was first performed on. Those who are trying to return to throwing sports are also more likely to require surgery to with 80% of javelin throwers and 54% of baseball pitchers opting to have it repaired (3). Rehabilitation from surgery can take anywhere from 4-6 month to recover depending on job duties, especially of throwing a long term goal.
Conservative Treatment
The majority of the general public and athletes do not see surgery. Zaremski et al found that 61% of UCL injuries did not have surgery. One study of 18 National Football League players found that 100% of the injured players returned to play after conservative, with a mean loss of game time of 0.64 games (5).
Conservative treatment often includes:
Initial rest period of 6 weeks with physical therapy to strengthen and stabilize the elbow

May include bracing, pain management, and periods of rest

Slow progressive loading with initiation of light throwing programs

Starting slow with high velocity movements and medial elbow forces

Continued progress back to sport and high level activity with pitch counts
UCL Physical Therapy after Surgery
Does your teenager have pain in the front of their knee? Have you heard of Osgood-Schlatter's Disease? Check out these Braces
The Best Elbow Braces for UCL Tears:
Bracing for UCL tears can be most effective in two instances:
Without surgery, when returning to sports or activities

After surgery when you are trying to protect the newly repaired ligament
The general goal of the braces are to provide support on the inside of the elbow, especially in aggravating positions. They help prevent further injury from occurring and may make activities such as throwing, hitting, or even say gardening more tolerable and with less pain. Each brace has been selected to offer:
Protection of the Ulnar Collateral ligament

Comfort – because who likes wearing a brace

Ease of use – no one will use it it it's not easy

Warranty and return policy – if it doesn't work send it back
Those that benefit from bracing without surgery the most are usually younger in age and have mild to moderate sprains.
The Bauerfeind Elbow Brace is great for those looking to specifically get back to pitching. It is designed to reduce elbow pain associated with excessive strain and hyperextension of the elbow joint often seen in sports. One of the best features is that is can be fit to each individual person through an adjustable strap system and the Boa closure system attached to an anatomical 3D-knitted arm sleeve.
We love the  Boa closure system – for individual adjustable motion control

Protects against excessive strain on the elbow, especially those seen in sports

Made of a fine mesh knit optimized for sport. It focuses on breath-ability and durability necessary for an athlete. Machine washable (Hooray!)

Graduated compression sleeve for improved joint stability and helps with swelling management
The DonJoy Performance Bionic Elbow Brace was one of our top choices for many reasons. It has great support, is comfortable to wear (for a brace), and easy to use. It allows for greater contact and is durable enough to take a beating in sports. This is our most popular brace and helps with those injuries where you aren't sure if you should see the doctor yet. Give this brace a try.
Support and protection from lateral forces that occur in everyday sport and activity.

Stretch webbing closure system ensures the proper fit for comfort and controllable compression.

The cross strap design allows the user to set the max angle of extension to keep an injured or healing elbow protected.

Bilateral polycentric hinges with hyperextension stop protects ligament damage and sprained elbows from getting in the way of performance.
The Trizone elbow sleeve is our choice for the best elbow sleeve. It's lightweight, breathable, and still adds some support through compression and silicone bands.
Strategically placed three zones of compression to help with support

Silicone banding injected directly onto the sleeve targets pain while also providing stability around the joint

All-natural Carbonized Bamboo is thermal regulating and anti-bacterial helping eliminate odors

Low profile performance brace that is designed to withstand repetitive movement injuries including strains, swelling and inflammation, tendonitis and soreness.
The DLX brace is perfect for those that need to limit their Range of Motion (ROM) after surgery. Braces such as this often cost $400-$500 to have the ability to slowly progress elbow motion. This will save you hundreds of dollars and does the same thing. Some of the features include
Easy Range of motion control in 15 degree increments

One Touch adjustment for those that aren't allowed to use their surgical arm

Telescoping length allows for control of the elbow

Adjustable straps and Velcro to optimize fit and comfort for each arm

Easy strut length adjustments
Works Cited
American Sports Medicine Institute. Adolescent UCL surgery ("Tommy John surgery"). Available at: http://www.asmi.org/research.php? page¼research§ion¼UCL. 

Mahure SA, Mollon B, Shamah SD, Kwon YW, Rokito AS. Disproportionate trends in ulnar collateral ligament reconstruction: projections through 2025 and a literature review. J Shoulder Elbow Surg. 2016; 25(6):1005-1012

Zaremski JL, McClelland J, Vincent HK, Horodyski M. Trends in Sports-Related Elbow Ulnar Collateral Ligament Injuries. Orthopaedic Journal of Sports Medicine. 2017;5(10):2325967117731296. doi:10.1177/2325967117731296.

Fleisig GS, Bolt B, Fortenbaugh D, Wilk KE, Andrews JR. Biomechanical comparison of baseball pitching and long-toss: implications for training and rehabilitation. J Orthop Sports Phys Ther. 2011;41(5): 296-303. – https://www.ncbi.nlm.nih.gov/pmc/articles/PMC5648099/
Kenter K, Behr CT, Warren RF, O'Brien SJ, Barnes R. Acute elbow injuries in the National Football League. J Shoulder Elbow Surg. 2000; 9(1):1-5 – https://linkinghub.elsevier.com/retrieve/pii/S1058274600800233
Disclaimer: The information provided in this post is for educational purposes only. This is not a substitute for a medical appointment. Please refer to your physician before starting any exercise program.