One of the best ways to improve strength and get a great workout at home is with resistance bands. You can take resistance bands with you anywhere and get a great workout no matter the location. You can store them in any room or at the office and use to improve overall strength and ability.
With all of the bands of the market, it can be difficult to know which ones to buy for the best durability and resistance. See our helpful reviews and begin your home workout today.
What is a Resistance Band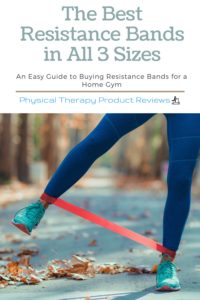 Resistance bands have been around for ages and are one of the easiest and most cost effective way to exercise. The bands are usually made from a latex rubber compound that when stretched provide resistance. Resistance bands are great because the further you stretch, the more resistance that is applied. Resistance bands come in many different shapes, sizes, and varying resistance. Some bands are in large loops, some are in small loops, some come handles and some come rolled up and you can cut to custom lengths. This post will cover the main types and go over our favorite 3 bands from each category. We also will share a few videos that we like to help you get started using your bands right away.
It is now near impossible to walk into a gym, fitness center or physical therapy clinic and not see or potentially use a resistance band if you are a patient. Even searching on Amazon there are over 2,000 results alone and that number is continually growing!!! This is great for you, the consumer, because resistance bands have become so affordable and being made with higher quality standards to keep up with the competition!
What are the Different Types of Resistance Bands
Large Loop Resistance Bands
This type of band has become increasingly popular with the Crossfit Movement. These bands are often used as assistance for pull ups but can be great for so many different exercises. They are often extremely durable, very versatile, and often provide a much higher amount of resistance:
Handle Resistance Bands
This type of resistance band is commonly used for upper body training and rehab. This is great for shoulder injuries and is easy to take on business trips and vacations. Instead of the flat design, these are often round tubes that provide good levels of resistance in all settings.
Small loop Resistance Bands
Small loop resistance bands fit into all sizes of gym bags and briefcases. They are often very affordable and most commonly come in packs with 4-5 different levels of resistance. Small loop resistance bands are frequently used in lower extremity and leg exercise but can used for total body workouts as well.
Mini Loop Resistance Bands
What is the Best Type of Resistance Bands
Each type of three types mentioned above have their pros and cons, so we recommend having a set of all three. Due to the cost of each being so inexpensive for each band it makes little sense not to have a set of each. Why you might ask:
Quick Home Workouts – When you are strapped for time it is incredibly easy to grab the bands and get a quality quick workout. When you have all 3 types there is no exercise that can't be performed.
Total Body Workouts – Get the most out of each type of band and target the whole body. You will be able to target the legs, arms, and core with all 3. You'll be surprised by tired you will get and how much strength you gain using only resistance bands. Add in a quick run and you saved yourself the hassle of going to the gym,
Injury Recovery – With the varying resistance levels and the variety of exercises you will be able to rehab most injuries that the average weekend warrior could have. Instead of waiting weeks to get into the overcrowded doctors office, start your rehab early.
Travel Workouts – Workouts are hard when you are on the road all the time. Our pilots and flight attendants each have a set to put in their luggage to keep their fitness levels up and to get a workout in at the hotel room. There really no excuse not to get a workout traveling.
Best Large Loop Resistance Bands
100% Rubber Latex Resistance Band Set that comes with the capabilities to buy single bands, 4 band set or a 5 band set. Each band is 41" long and come is resistance levels from 10 pounds up to 175 pounds. The ability to have a full set allows for so many different exercise variations. These bands have over 1,700 customer reviews on Amazon and the best part offer a 60 day money back warranty for any reason. So use them hard like they are designed and get your money's worth. There have been complaints of broken bands so test them out as soon as you get them.
There are two main reasons that the Fitness Dreamers are on our list. One they are really affordable for a set of 5 bands AND they come with 5 free mini band loops. This allows you get a full body workout with the mini bands and the large loop bands. The bands are also 41" long and come in resistance levels from 5 -175 pounds. These can used for Crossfit, stretching, weight lifting, mobility, and rehab. Even better, they come with a 90 day no questions asked warranty and really positive reviews this far.
The Garage fit bands motto is "Anywhere, Anytime Exercising! With these bands thats true. The Garage fit claim to fame is durability and are guaranteed to never break or snap. Bands are 41" in length, come in variable resistance from 2 – 250 lbs of resistance. Solid warranty if the bands break and has some really great reviews. The bands are made Plus we love the colors and looks of these bands.
Best Resistance Bands with Handles
This is easily our favorite bands with handles. The quality of the bands is incredible. They come with an anti-snap patent and a 100% satisfaction guarantee. You can get different packages that allow for anywhere from 96 – 328 lbs of resistance. The loop system makes it easy to take with you and anchor to use in a variety of ways and the clips are awesome to change in and out. There are over 2,000 five star reviews on Amazon and easily worth the investment.
This set comes in second place as our favorite bands with handles. The Tribe bands also are Anti-snap, have easy to use clips to change handles, and comes in different resistance levels. There are a little less expensive and can achieve a total resistance of 80 lbs and come with a nice carry pouch. The tribe bands come with a 100% money back guarantee so you know they will last a long time. The only negative we found is the end pieces have broken previously and have needed to be replaced.
The Black Mountain resistance bands Black are awesome. They are made from the highest quality rubber and come with a lifetime warranty. This set of resistance bands includes five stackable resistance bands, two handles, door anchor, carrying bag, and exercise manual (which love to get you started). The bands can achieve up to 75 pounds of resistance, come with easy change clips, and is made for anyone looking to get stronger. Heads up the door stop needs to be secure and may not work on all doors but with over 6,000 reviews it's easy to see why we like these so much.
Best Small Loop Resistance Bands
The Perform Better Mini Exercise Bands are ideal for physical therapy rehabilitation (rehab bands), weight loss, pilates, muscle toning and strengthening. Each band is 9″ by 2″ long, are built to last and maintain their elasticity over many years of training and use. The Perform better bands have the best durability of the small loop bands that we tested and held their shape the best. They are small and compact which make them easy to take to the gym or while traveling. They come in packs of 10 in the same color or a mixed pack of 4. For the cost having a set of these are a must!
The Fit Simplify Bands are one of the most popular sets of bands on the internet and for good reason. First, they are made of high quality 100% genuine eco-friendly latex (not rubber bands which are much cheaper and tend to break easily). These bands are free of non-natural materials such as Thermoplastic Elastomer (TPE) – TPE materials cost 40% less, are not gentle to skin and much less durable. They are continuously testing to improve and maintain they are snap proof. These are also on the least expensive side of things when you consider what you get for 5 bands which makes these extremely enticing. Finally, they provide a 100% lifetime guarantee which means that even if one does snap they will replace it. The Fit Simply bands are hard to beat. Our only knock on these is that they tended to stretch a little faster than the Perform Better bands but with the warranty they are willing to replace those bands if they get too stretched out.
The Synergee Resistance bands are really gaining in popularity amongst Physical Therapists for a couple of reasons. First is the warranty, if you are unhappy or the band breaks then they will refund your money AND send you a replacement band. Second, they are affordable and made with great quality. The bands come in a set of 5 bands from 5 to 50 lbs and the size of the bands are 12" by 2". It does come with an exercise card but there are only 6 exercises included which is better than nothing but be sure to find more. They also come with a small storage pouch and like the others listed above make it extremely easy to travel with or take to the gym. No real complaints on these, other than they are wide at 12" than the perform better which makes you have to move further before feeling the resistance. This is not necessarily a bad thing and more of a personal preference.
Other Great Rehab Related Articles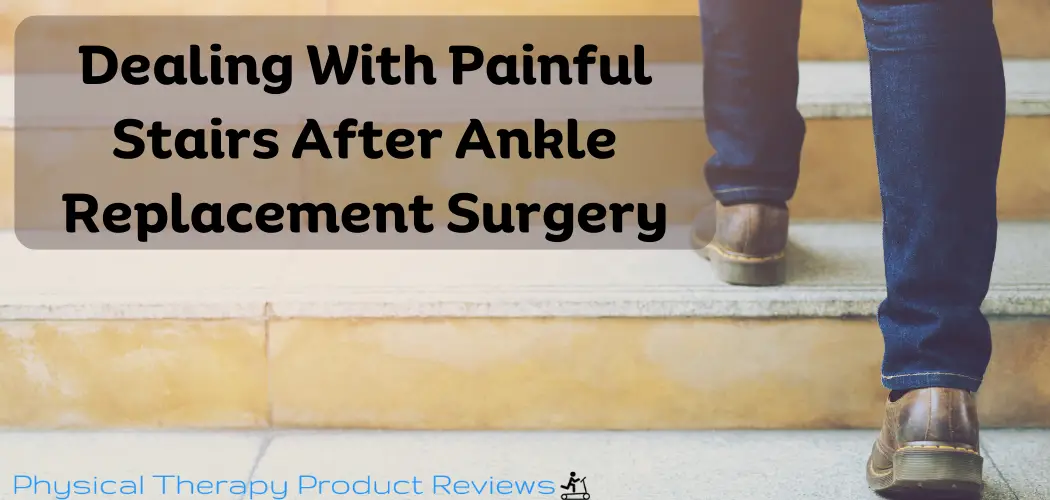 After undergoing an ankle replacement surgery, patients may experience pain when climbing stairs. The level of pain can vary from mild discomfort to severe pain,
Disclaimer: The information provided in this post is for educational purposes only. This is not a substitute for a medical appointment. Please refer to your physician before starting any exercise program.