While shoulder injuries are the most prevalent injuries in wrestling, knee injuries aren't far behind. It's not just sudden and acute injuries either, but something that often just happens over time and through frequent abuse. 
Wrestlers are constantly applying immense strain and pressure on their knees when they aren't slamming them down on the mat, creating impact injuries that are small but build up over time. In order to alleviate the damage and provide protection, knee braces are common. 
With that being said, we've compiled a list of the top five knee braces for wrestling, including their pros and cons.
Wearing a Knee Brace During Wrestling
There are a few important things to keep in mind when wearing knee braces during wrestling.
First, make sure the brace is tight enough so that it doesn't move around, but not so tight that it cuts off circulation.
Second, you may need to adjust your stance and technique slightly to compensate for the extra support the knee brace provides.
Finally, practice in a controlled environment before wearing the knee brace in an actual match. This will help you get used to how it feels and how it affects your wrestling.
What to look for in a Wrestling Knee Brace
There are several qualities to look for in knee braces. These include the material, weight, durability, amount of support, and the overall comfort and fit of the brace.
You want to find a brace that is flexible so that you can bend your knee easily and comfortably, yet still supportive to help stabilize the knee and decrease pain.
Material 
The knee braces on the market are made from a variety of materials, including neoprene and polyester. Neoprene is more expensive but lasts longer, while polyester knee braces tend to be cheaper with less support but can also take your wrestling style into consideration as well.
There's no clear winner here; it really comes down to personal preference. If you have a knee brace that you really like but it's made from a material that doesn't breathe well, try looking for one with holes in it so the air can circulate better.
Weight
Knee braces come in a variety of weights, and you'll want to choose the lightest one that still provides the support you need.
Durability
The knee brace should be durable enough to withstand regular use without breaking or becoming damaged. Look for knee braces with reinforced stitching and high-quality materials.
Amount of Support
You want knee braces to provide the right amount of support. Too much knee brace can limit your mobility, while too little knee brace won't give you enough protection against injury or help stabilize a current injury.
Comfort/Fit
Make sure that the knee brace is comfortable and fits well on your knee so it doesn't move around and cause discomfort.
Why Knees Get Injured During a Wresting Match
There are a variety of knee injuries that can occur during wrestling, from bruises and sprains to torn ligaments. The knee has to go through high demands and put into awkward positions like no other sport.
Bending and Twisting
Bending and twisting the knee is common in wrestling, as well as landing on it wrong after a jump. This can cause ligament damage, meniscus tears, and even arthritis down the road.
In order to decrease your risk of a knee injury while wrestling, use one of the best knee braces for wrestling that we've listed above. And if you do happen to injure your knee, don't try to wrestle through the pain – take some time off to let it heal.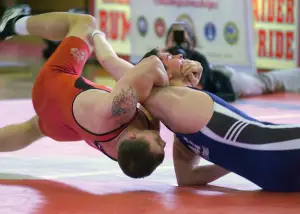 Wrestling is a physically demanding sport that puts a lot of stress on the knee. Knee braces can help reduce the risk of injury and provide support during healing if an injury does occur.
Twisting the knee can also cause ACL and MCL tears, as well as Meniscus Injuries. The ACL is the most common ligament injured in the knee during wrestling.
Landing on the Knees After
The knee has to endure a lot of stress during wrestling, especially from landing on it after a takedown or shooting to the mat. This can cause knee pain and bruising on the front of the knee and in some cases cause inflammation called Bursitis.
How Common Are Knee Injuries in Wrestlers?
A study examining the rate and severity of knee injuries in wrestlers found an incidence of 30 knee injuries per 100 wrestlers per year. Overall, there were 11.5 knee injuries per 100 wrestlers per year requiring a week or greater time loss.
This comprises over one-third of all serious wrestling injuries.
The review of the data revealed injury rates in matches to be almost 40 times those of practice.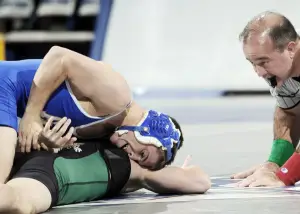 One of the disheartening statistics from the study is that nearly 50% of wrestlers were found to be noncompliant with medical recommendations. Meaning that almost half of the wrestling didn't do what the medical professionals recommended to get better or to recover safely from their knee injury.
If you are a wrestler this number may not surprise you but being non-compliant against medical advice can set you up for serious knee problems down the road in some instances.
Our 5 Favorite Knee Braces with Wrestling
Bauerfeind Sports Knee Support
When it comes to knee braces, a wrestler needs something that is supportive but creates as little restriction in movement as possible. The Bauerfeind Sports Knee Support accomplishes that in several key areas.  
3D Airknit Technology
Grip Technology
Omega Pad
Knee Stability
Airknit technology is prevalent in soccer cleats and is a great feature that keeps the sweat from building up between the material and your skin. It provides extra breathability which adds a solid layer of comfort. 
The last thing you want when locked in grappling combat is an extremely uncomfortable knee brace. The Grip technology used in the material provides for a secure fit with a full, 100% range of unrestricted movement. 

The Omega Pad allows the knee cap to freely move around within the material, giving the knee full power without losing its ability to keep it stable throughout the match. By helping to control your movement without controlling it to the point where you feel like your knee is limited. 
The material is also extremely durable and free of toxic material that could initiate contact dermatitis or other friction-based skin problems. However, if there's a caveat, it's that the material can sometimes bunch and pinch in the back, depending on the length of your knee.
Pros
Cons

Superior material designed for comfort
3D Airkbit Tech works as advertised
Great stability
Pain relief
Control and precision
Specifically designed for both heavy weightlifters and aerobics exercises, the McDavid Hex Knee Pad finds a perfect home in the sport of wrestling. The 9mm Hex technology is a closed-cell, foam padding that protects the knee from severe impacts and collisions.
Of course, that's just the sort of thing a wrestler needs, considering how ofter the knee contacts the pad of the ring. The Moisture Management technology is this brand's version of the Airknit tech used in Bauerfeind. 

While it's a different take on wicking moisture and sweat away, it still does a phenomenal job keeping your knee dry while dispersing the heat and moisture. While it's primarily a knee pad, it can also be used for the elbows and shin.
There are a lot of complaints when it comes to size, however, and you should go with one size larger than what is typical for you. 
Pros
Cons

9mm Hex Technology provides plenty of cushions
Moisture Management Technology
Versatility with a variety of uses

Sizes don't match reality
Techware Pro Knee Protection Sleeves
The patella gel pads in this thing make all of the difference in the world. When they're situated over the knee cap, you'll feel like you could drop to your knee with a mountain on your back without a hitch. It definitely provides a superior form of protection without getting in the way. 
The stabilizer bars and built-in straps provide plenty of stability, even in extremely stressful situations when the knee needs the support or it would otherwise fold. The breathable, neoprene fabric is great at keeping the cool air in with the heat and moisture out. 

The bidirectional straps are also supportive but feel a bit loose at times and it's really the lone drawback to an otherwise excellent protective sleeve. 
Pros
Cons

Patella Gel Cap
Stabilizer Bars
Excellent, breathable, neoprene material
Superior support and comfort

Bidirectional straps feel loose at times
McDavid Knee Pad with Thick Gel Insert for Impact Absorption
Another neoprene option, this time from McDavid, and it's every bit as comfortable and breathable as the others. McDavid also has their own Sorbothane sponge gel pad for the kneecap, which is an outstanding addition and absorbs impacts extremely well.
The fabric and compression are designed to maximize blood flow, which maximizes healing time and the overall comfort of wearing the sleeve. The seamless back minimizes pinching and keeps the material from rolling up, creating additional discomfort. 

Though the knee cushion is an outstanding addition, wrestlers with a wider knee may find that it is too narrow.
Pros
Cons

Sorbothane Sponge Gel Pad
Compression maximizes blood flow
Seamless back means less pinching
Doesn't roll up in the back

Gel pad may be too narrow for some
The Incrediwear Knee sleeve is designed to maximize blood flow, which increases healing time while also increasing mobility. They do this through non-invasive, non-compression technology, with the primary material consisting of semiconductor elements.
The semiconductor elements are stimulated by body heat and they respond by creating a higher level of mobility with increased blood flow and healing time. 

The fabric is also designed to wick away excess moisture and sweat for great breathability and comfort. They do tend to fray at the edges, however, which doesn't affect performance so much as aesthetics.
Pros
Cons

Unique material design to increase blood flow
Wicks away sweat and moisture
Increases mobility
Increases heal time

Tends to fray at the edges
Conclusion
As a wrestler, the last thing you need is for a knee injury to hinder you through clumsy, cheap protective sleeves. Check out our top 5 sleeves for wrestlers and choose the one that will turn your weakness into an advantage. 
Let us know in the comments below if you have a knee brace that you like to wear or have had success with.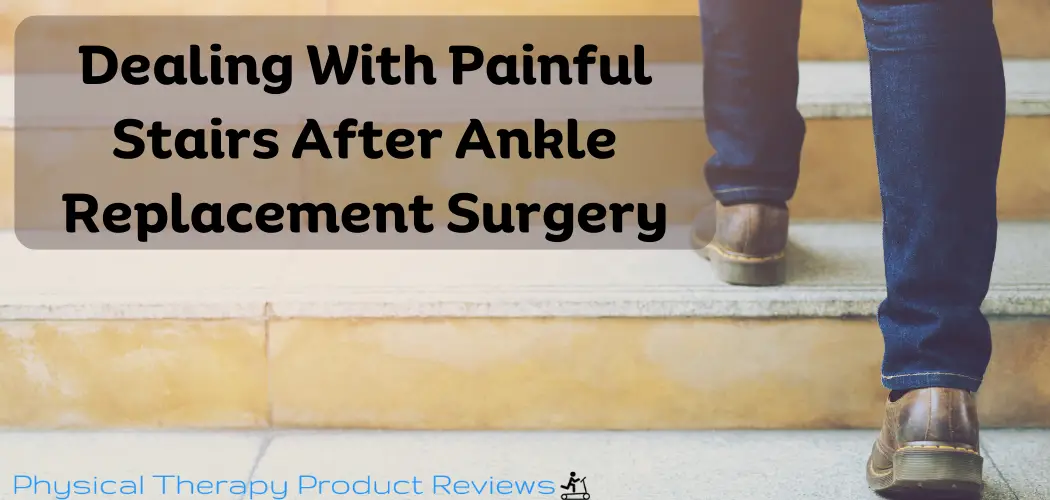 After undergoing an ankle replacement surgery, patients may experience pain when climbing stairs. The level of pain can vary from mild discomfort to severe pain,
Disclaimer: The information provided in this post is for educational purposes only. This is not a substitute for a medical appointment. Please refer to your physician before starting any exercise program.