Do you need a great workout tool for home, that is great for whole-body workouts? Great for balance training, easy to use, and doesn't take long to set up? If this seems appealing, then the Bosu Ball may be the perfect exercise tool for you!
A Bosu ball can work on all aspects of the body without taking up a lot of space. It's portable enough to move around the house or take to a friends house. The Bosu ball makes every exercise performed using it harder and promotes greater muscle growth.
Some of the links in this post are affiliate links. This means if you click on the link and purchase the item, we will receive an affiliate commission at no extra cost to you. All opinions remain our own.
What is a Bosu Ball?
The name Bosu Ball initially came from an acronym that stands for the "Bionic Oscillatory Stabilization Unit". It is a ball that is cut in half with one side flat, the other side rounded and can be used on either side. The different sides are designed to provde differing levels of diffcult. The BOSU ball was invented by David Weck in 1999 as a way to improve performance. It's commonly used in gyms and physical therapy clinics across the country.
What are the Benefits of A Bosu Ball?
There are many benefits that come with using a Bosu Ball and here listed are some of those great benefits.
The Bosu Ball aids in providing great and improved balance. 

Increases overall body strength.

Decreases the chances of falling. 

It improves stronger muscle co-contraction, and 

Provides a better workout in a shorter amount of time.
How to Use a Bosu Ball
There are various amounts of exercises, such as lower body, upper body, and full-body workouts that can be done with the Bosu Ball. Here are a few examples of exercises that can be done with the Bosu Ball.
A single-leg hold, which can improve balance, is done by balancing on one leg for 30 seconds on the ball part with the flat surface facing down. 

Squats to strengthen the lower body can be done with the ball part facing down while standing and performing squats on the flat side. 

Sit-ups can be done by sitting on the ball side up and tightening stomach muscles while bringing in the knees and keeping your back aligned with the ball when extending back out. 

Push-ups can be done by placing feet crossed on the flat side up and bringing the upper body up and down with your arms while on the floor. 

The overhead tricep extension strengthens the upper body by holding the ball over the head, with knees slightly bent, and bending the elbows back to bring the ball towards the middle back. 
Considerations to Look for in a Bosu Ball Before Buying?
Weight
The Bosu Ball is designed with a Burst-Resistance material that can handle weight from 200 to 350 lbs. However, there are some that can handle more than 350 lbs.
Material
An important factor when searching for a Bosu Ball. They can range from flat smooth surfaces, all the way to ribbed surfaces. There are some that are made with hypoallergenic and eco-friendly material, latex, or even rubber. It is important to figure out which material suits you best.
Warranty
Another factor to look for when buying a Bosu Ball. Just in case an accident happens and your ball burst, a warranty policy will ensure that you get the most bang for your buck.
Handles or No Handles?
There are exercises that can be done with the Bosu Ball, such as the overhead tricep extension that requires handles, so don't forget to look out for whether the Bosu Ball has handles or not.
The Best Bosu Ball Trainers for Home
The BOSU Pro Balance Trainer is made with a thick, heavy-duty bladder of latex-safe, burst-resistant material. It has a patented non-slip and non-marking material as well. The product includes a hand pump, 6 exercise DVD downloads, training manual, and has a 350 lb weight limit. It has an overall high star rating on amazon.
Pros: The Bosu Pro Ball is a suitable size for all adults with a median weight limit and is great for core and balance training.
Cons: It does not come with handles and some have a leaking plug.
URBNFit Balance Trainer Stability Half Ball
The URBNFit Balance Trainer Stability Half Ball is made for all fitness levels with slip-resistant material. It comes with latches on the side to clip on the resistance bands that come with it. This product has an overall high star rating on Amazon.
Pros: Comes with resistance bands, a handpump, and a free work-out guide. The product is very sturdy.
Cons: Does not come with an instruction manual or weight limit.
Do you need exercises for the bosu ball to strengthen your legs? See the best exercises for stronger legs here.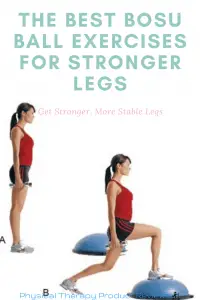 Nice C Balance Ball Balance Trainer
The Nice C Balance Ball Balance Trainer is made with durable rubber and sturdy ABS plastic that is waterproof and stain-resistant. It has environmental-friendly PVC material that is non-toxic and chemical-free. It is a comprehensive exercise set that provides a safe and anti-slip design. This product has a really high overall star-rating on Amazon.
Pros: This product has a 30-day money-back guarantee policy and comes with durable resistance bands. It is easy to deflate and comes with a foot pump for easy inflating. The Nice C Balance Ball Balance Trainer is very stable and durable.
Cons: Does not come with an instruction manual or weight limit.
DEVEBOR Half Ball Sport Balance Trainer
The DEVEBOR Half Ball Sport Balance Trainer has high-quality, matte and non-slip material. It can handle a weight of up to 800 lbs and has rubber padding on the bottom to keep from slipping. This product comes with a variety of colors and provides hypoallergenic material. The anti-skid spiral texture is compatible with a variety of exercises and has an overall rating of greater than ⅘ on Amazon.
Pros: This product has a higher weight limit and has great quality. Wonderful customer service and comes with handpump and resistance bands. It is easy to store and carry.
Cons: Due to the non-slip rubber pads, it is harder to use with the flat side up.
ATIVAFIT Half Ball Balance Trainer
The ATIVAFIT Half Ball Trainer has a durable rubber base that is anti-slip and lightweight. It can handle the weight of up to 660 lbs and has detachable resistance bands. The material is non-toxic and environmental-friendly. This product has a really high overall star-rating of 4.6 on Amazon.
Pros: Although it does not have handles, the sides are wide enough for an easy grip. A very sturdy and effective product that can handle large amounts of weight. It is easy to inflate and a great value for what you pay.
Cons: The rubber feet on the bottom can make it tough to use the flat surface up.
Disclaimer: The information provided in this post is for educational purposes only. This is not a substitute for a medical appointment. Please refer to your physician before starting any exercise program.