There are so many options when shopping online for a TENS unit that it can be overwhelming. It seems new units are added daily. TENS units are a great option for managing pain at home while EMS can help speed up recovery after surgery. In a crowded field, we recently tested the new Auvon TENS and EMS combo unit and believe it is one of the best options on the market today.
Our Verdict: A Great Buy
We highly recommend buying the Auvon TENS + EMS unit. The quality and value of the unit compared to others on the market make it an excellent choice for anyone looking for a home TENS unit.
Pros and Cons of the Auvon TENS Unit
Pros:
With 4 channels you can treat multiple areas at once

Comes with both EMS and TENS
Has easy to use settings and with a large screen
Has a timer to track time and to fall asleep with
Cons:
None that we found. Its comes at a good price point, is a great quality unit, easy to use, and uses standard electrode pads.
TENS + EMS in the Same Unit
The Auvon unit has both TENS and EMS capabilities. Most units have only TENS or only EMS capabilities requiring two units to get the benefit of both.
TENs stands for Transcutaneous Electrical Nerve Stimulation which is a way to use electrical current to decrease pain but altering the nerve response to pain. The electrical impulses from a TENS unit alter how the local nerves react to pain but altering the signal that the nerves send to the brain. By overloading the sensory nerves, they focus on the electrical impulses and send fewer signals of pain.
EMS stands for Electrical Muscle Stimulation and is used for muscle strengthening and activation. In physical therapy, EMS is used after surgeries and injuries to help the affected muscles get back to normal working capacity and build strength
To use EMS, put the pads on the muscle that you are trying to strengthen. An example would be the quad muscle after a total knee replacement. Turn on the EMS function to moderately high intensity but still tolerable level. While the EMS is going, try to activate and use the targeted muscle like during a Long Arc Quad Exercise. This helps retrain the nervous system and the muscle to improve strength.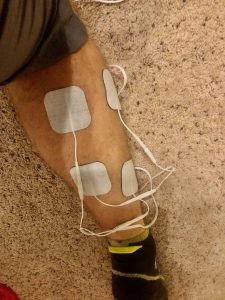 4 Channels is Better Than 2 Channels
One of our favorite aspects of the Auvon TENS + EMS units is that it has 4 channels. Most TENS units on the market have only 2 channels. This allows you to use 8 pads at once and treat multiple body parts at the same time. 
This is perfect if you want to use the 2 larger pads on the low back, 2 on the hip, and then you can also put 4 pads on an achy shoulder.
To cycle through the different channels hit the large square button in the middle of the unit near the bottom.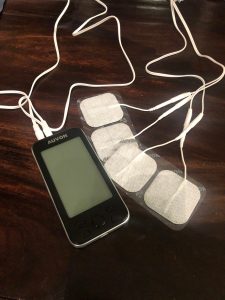 24 Modes of Pain and Performamce
This unit comes with 24 modes. The first 16 modes are for TENS and you can change between them by using the button with the "M" button on the front of the screen. 
The modes are designed for specific body parts including the neck, back (link), elbow, and leg. Within each mode is 4 submodes that you can cycle through to find the one that feels the most comfortable. 
The EMS comes with 4 submodes within the 2 main modes. The two EMS modes focus on strength and performance.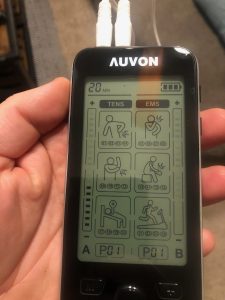 Intensity Levels - This Thing Packs a Punch
The Auvon unit makes it easy to change intensity levels while in use. The goal of TENS and EMS is to increase the intensity up to moderately high intensity but making sure it is still tolerable. After a few minutes, it's common that the e body will get used to that level and you will need to increase the intensity to get the proper effect. To increase the intensity on this unit you simply use the + or – buttons on the lower right side of the unit. 
Pro Tip: Once you have the correct intensity level set, be sure to lock the unit so that you don't accidentally increase the intensity levels in your pocket. The button can be found on the right side of the unit.
Adjustable Timer - A Sleep Saver
One of our favorite features of any TENS unit is a timer. This is perfect for after surgery or a serious injury because you can use a TENs unit to help yourself fall asleep without doing any damage. 
Simply get the TENS unit ready and place the pads on the place body part that you want, get comfortable and set the timer.
The timer can increase in increments of 10 minutes all the way up to 90 minutes total. This is helpful so that you don't leave the TENS/EMS on all night long. It makes it safe to use to help fall asleep and then shuts off in the night.
The Auvon unit is extremely easy to use. The screen is large and easy to read. Once you have read the instruction manual and become familiar with the buttons, it's extremely easy to cycle through the options and change on the fly. 
We also love the pad holder which saves many frustrations of keeping the leads from getting tangled and prolongs the pad's life. This is a small but nice accessory to have.
The different settings and multiple modes make it so easy to find settings for each individual's preferences. 
Finally, the Auvon unit use 2×2 electrode pad sizes which is extremely helpful. Electrode pads do have to be replaced from time to time and the 2×2 size is the most common universal size making them easy to replace. 
Battery Life - It Keeps a Charge
The battery life of the Auvon TENS unit is excellent. The battery is rated to get 10 hours of use on a full charge but we never drained it.
That means that you could get sixty 10-minute TENS treatments in before ever having to charge it again. 
Charging is easy with a wall plugin and it charges quickly, within 20-30 minutes. There is an easy to see battery indicator to show the current battery levels. We never had an issue the two weeks when we really put this unit to the test.
The Auvon TENs unit is lightweight and easy to take anywhere. It's about the same size as a cell phone but much lighter than a typical smartphone. It also comes with a carrying pack that easily fits all of the pieces and the unit inside with a drawstring closure. This is perfect to put in a backpack, gym bag, and or for traveling in a suitcase. 
The small and lightweight size also makes it easy to use on multiple areas while the unit sits in your pockets. Other TENS units can be heavy and bulky which gets annoying to leave in a pocket. 
This unit comes with everything you need to use on day one. Auvon includes 10 different sets of electrode pads of various sizes, a pad holder, carrying case, instruction manual, and the unit itself.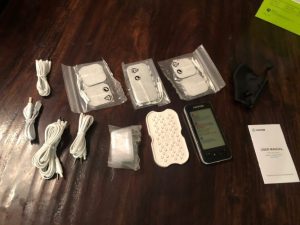 The electrode pads are great and have a good "stick life" to them so you can get multiple uses out of them. If you run out you can easily order more Auvon 2 x 2 electrode pads inexpensively.
At Physicaltherapyproductreviews.com we are huge believers in warranties and customer satisfaction. Auvon excels in this category. They offer a 12-Month Warranty with easy exchanges or replacement and the customer service has been friendly and easy to work with.
How Often Can I Use a TENS Unit?
You can use a TENS unit as many times during the day that you feel like you need. There are minimal side effects and no risks of doing it too much. In reality, you can do it 20 times a day if needed. 
We generally recommend to use it for 10-15 minutes and then wait equally as long before using it again. This helps prevent your body from getting used to the treatment and giving your body a break.
What Intensity should the TENS Unit Be Set At?
The optimal intensity level is going to be different depending on each person. The best way to describe it is you want the intensity to be of medium comfort level. You want to feel it but it shouldn't make you tighten and guard all your muscles around it. It is common to have to continually adjust the intensity levels as your body gets used to it during treatment.
How Can I Prolong the Life of Electrode Pads?
There are a couple of things that you can do to prolong the life of your TENS unit electrode pads. 
Clean your skin before use – try to wipe off any lotion or external skin products

Return the electrodes to the plastic it came on – don't put the sticky ends together

After use, you can add or dip them in hot water to prolong their life
Other Great Rehab Related Articles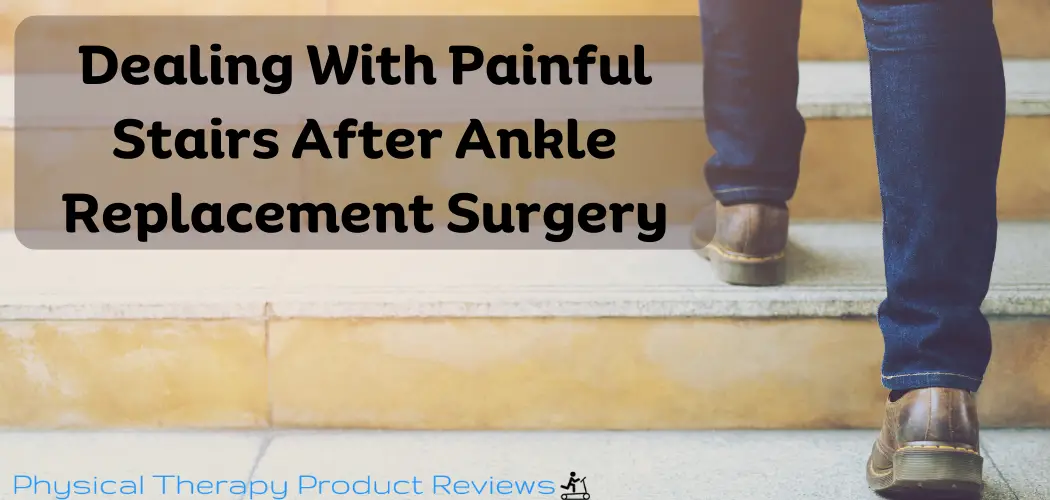 After undergoing an ankle replacement surgery, patients may experience pain when climbing stairs. The level of pain can vary from mild discomfort to severe pain, …
Disclaimer: The information provided in this post is for educational purposes only. This is not a substitute for a medical appointment. Please refer to your physician before starting any exercise program.