When it comes to incontinence in elderly adults, our society doesn't like to talk about it. It can be embarrassing and even make you feel a little helpless. Who wants to admit they don't always make it to the bathroom on time? Families and loved ones want to be supportive, but they may have difficulty addressing the problem, too.
Yet, incontinence in elderly adults happens for a variety of reasons, and it's extremely common. In fact, almost one in 10 elderly persons experience urinary incontinence, and this number may even underestimate its prevalence since the studies are based on self-reporting.
What is Incontinence?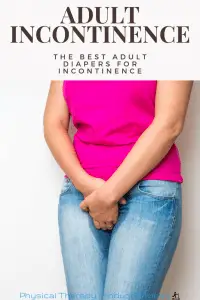 Unfortunately, the older you get, the more likely you are to experience urinary incontinence. Certain conditions, like Parkinson's Disease or an enlarged prostate such Benign Prostate Hyperplasia, can interfere with normal bladder function, but even a cough or sneeze may trigger an accident. Menopausal women are also affected.
Despite its prevalence, lack of bladder control can be more than a little inconvenient. You might feel frustrated, believing you need to bring a spare set of clothing around to stay clean. Incontinence can dictate when and where you go shopping, participate in your favorite activities, or even get together with your friends and loved ones. But it doesn't have to be that way.
How do you Know an Adult Diaper is Needed?
You might need an adult diaper if you feel like incontinence is impacting your quality of life. If you've stopped going places you used to love or if you don't participate in physical activities just because you're afraid of an accident, it's time to think about alternative solutions. Other indications might be if you have unctrolled leakage that requires frequent laundering, or if your family members are continually have to clean sheets, clothes, or you always take a spare set of clothes with you.
What are the Options for Adult Incontinence?
Thankfully, incontinence can be addressed in a number of ways–through physical therapy, biofeedback, using the bathroom at regular intervals, and making changes in your lifestyle can all decrease the chances of an accident. When you move past embarrassment and address the problem, you're free to focus on other things and to regain your quality of life.
Are you or your loved one having difficulty getting around? Check our reviews of the best 4 wheeled walkers to keep everyone safe and prevent falls.
What to Look for in a Leak Proof Adult Diaper?
When choosing leak-proof adult diaper for yourself or a loved one, you'll want to consider:
Comfort: Can you perform your regular activities while wearing underwear? Does it fit discreetly under your clothing? Can you adjust the fit with ease? Remember, the underwear should enhance or improve your lifestyle.
Absorption: Does the product actually absorb liquid? Does it wick away moisture or lock it away to prevent rashes, sores, or infection? 
Cost: Adult diapers come at a number of price points. You'll need to consider how many pairs you'll need to use daily, and how well they perform when you use them. Depending on your needs, buying at a higher price point may actually be less expensive over time. 
Ease of Use: Can you pull the underwear on yourself, or will you need help? Can you readjust the tabs? Are they easy to remove without leakage? Be sure to consider these questions when selecting which product you will use.
The Best Leak Proof Adult Diaper
Depend Silhouette Incontinence Underwear
Designed especially for women, the Depend Silhouette Incontinence Underwear particularly during maternity or post-partum, these briefs have a feminine fit. These are great for incontinence or other maternity related issues. Some prefer to wear these post partum instead of pads for the first few weeks.
Pros: Elastic around legs contains leaks; thin material for discreet wear
Cons: Thin design may lead to easy tearing; can be itchy
Tranquility Premium OverNight Disposable
The Tranquility Premium OverNight Disposable latex-free underwear is perfect for overnight protection, including inner leg cuffs that divert fluids to the core and keep skin dry.
Pros: Superior absorbency and leak protection; good for daytime wear as well as while sleeping
Cons: Bulky
 EGOSAN Ultra Incontinence Disposable Adult Diaper
The EGOSAN Ultra Incontinence Disposable Adult Diaper are made with skin-protecting aloe, the EGOSAN has a "rustle-free" outer layer, adjustable tabs, and can be changed less frequently than other brands.
Pros: Breathable; tabs can be re-fastened, making adjusting easier
Cons: Can be difficult to put on by oneself
Wellness Absorbent Adult Diaper Underwear
The Wellness Absorbent underwear adult diaper with a three-layer interlock system based on NASA technology, these briefs keep skin dry and require fewer changes, which can save you money.
Pros: The interlock system keeps skin dry and can help prevent rashes and bedsores
Cons: More expensive than other brands
LivDry Adult Incontinence Underwear
The LivDry Adult Incontinence Underwear has gathered bands around the leg cuffs, this underwear includes stretch panels that adjust to your body.
Pros: Unisex design; the sides can be torn away to remove more easily
Cons: Bulky
Disclaimer: The information provided in this post is for educational purposes only. This is not a substitute for a medical appointment. Please refer to your physician before starting any exercise program.