Avid mountain bikers get plenty of exercise. Because of this, it's a common misconception that they don't need to worry about strengthening exercises. While mountain biking provides ample cardiovascular exercise and lends itself well to leg strengthening, it's not a full-service workout.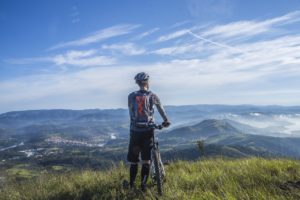 Strength training is an excellent addition to any mountain biker's routine. It helps improve your biking performance and decreases your risk of injury, too.
What areas are important to Strengthen in Mountain Biking?
Any mountain biker can tell you the importance of healthy hip joints. The right workout increases the strength and stability of your hips. Stronger and more stable hips will improve your performance. 
The hip muscles are responsible for power production when pedaling. To go faster and farther, think about the powerhouse muscles; the glutes, hip adductors, abductors, and the hip flexors. Targeting these muscles will improve your intensity and increase your overall balance and stability while riding.
Why Strengthening the Hip will make you a better Mountain Biker
A small amount of hip strengthening goes a long way for a biker. Focusing strength training on these muscle groups will boost the power in every stroke, improve the smoothness of every pedal, and decrease the chances of injury, especially to the lower back.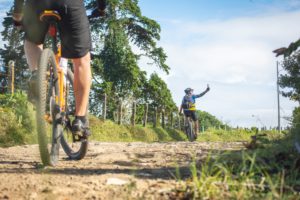 The muscles in your hips play an important role in biking. They're responsible for bringing the leg to the top and bottom phases of the pedaling sequence. This circular motion requires a great deal of strength in the large hip flexor and extensor muscle group. When these muscles are unable to keep up, the muscles in your lower back and trunk will compensate. This compensation often leads to pain in these areas. 
By adding a simple hip strengthening regimen to your training sessions at least 2-3 times a week, you'll see a noticeable improvement in your next ride. You may even be a little less sore!
FAQ About Mountain Bike Injuries
What are the Most Common Mountain Bike Injuries?
The most common mountain bike injuries involve overuse injuries to the legs, particularly in the hips and knees. Overuse injuries such as anterior knee pain, or patellofemoral pain syndrome, are most common as time and mileage begins to increase. 
Injuries to the upper body are most common after accidents and crashes. These include head injuries, broken arms, and shoulder dislocations. Upper body are also the most common reasons for going to the emergency room.
What is the Safest Way to Progress Biking Mileage without Causing Injury?
In general, the best way to progress mileage is to stay within a 10-15% progression each week. This can be measured by either mileage or time on the bike. 
Most injuries occur after progressing to a big ride without building up the tolerance first. 
Should I Wear a Mouthguard While Mountain Bike?
If you are competing or training for a competition at high speeds then a mouthguard has been shown to be beneficial for two reasons. 
A mouthguard, in addition to using a helmet, can reduce the severity of a head injury such as a concussion
It can protect your jaw and teeth for any serious injury
It's up to you if it's something that you feel like would benefit you.
Can you get Tendonitis from Mountain Biking?
Absolutely, tendonitis in the hip flexors and anterior knee are quite common in mountain biking, To prevent it, try to increase your riding time and distance gradually as well as doing the exercises below for prevention.
Does Kinesiotape Help with a Mountain Biking Injury?
Kinesio tape is an inexpensive and easy to way to self manage mountain bike injuries, especially overuse injuries. Kinesiotape has been shown to decrease pain, improve body awareness, and add a little extra support. There are many different applications depending on the area of need.
The Best Hip-Strengthening Exercises to Be a Better Mountain Biker
Clamshells are a standard hip abductor strengthening exercise. To try this one out: 
Start by lying on your right side.

Bring your knees to a slight bend, making sure to stack your feet on top of each other.

Bring your left knee up towards the ceiling, while keeping your ankles together (think about opening like a clamshell).

Complete 2 sets of 10 and then repeat on the opposite side. 

Add to this exercise by using a resistance band placed above the knees.
This exercise works out muscles that are not primarily used for forward movement. It can be used to improve balance and flexibility. We recommend using a resistance band for this exercises. Side steps are easy to do, simply: 
Standing with the feet hip-width apart, start to walk sideways for 10 steps in one direction. 

While doing this movement keep a slight bend in the knees and make sure that your toes are pointing throughout. 

Then repeat the same in the opposite direction. 

Add to this exercise by placing a resistance band above the knees.
This exercise is meant to strengthen your gluteus muscles and hamstrings in addition to your abdominal, lower back, and hip muscles. To do this: 
Start on your back with your knees bent keeping the feet hip-width apart. 

Start to press into your heels and lift your hips off of the ground, squeezing your glutes at the top. 

Hold for 5 seconds and then slowly return down. 

Work your way up to 20 repetitions.
The SL Deadlift improves foot, hip, and torso stability. Here's how: 
Stand with your feet hip-width apart and start to bring weight into your right leg. 

Lower your trunk forward and towards the ground, while controlling your leg into an extended position (think about making a 'T' with your body). 

Slowly control yourself back to the starting position. 

Complete 2 sets of 10 and repeat the same on the opposite side. 

If you would like to increase the resistance, try holding a small weight in the hand opposite of the standing leg throughout the movement.
Lateral lunges are great for increasing the balance, stability, and strength of the hips. Give them a try by: 
Starting with your feet hip-width apart, making sure your toes are pointing forward and that you have a slight bend in the knees. 

With your right leg, take a big step out to the side. Keep your torso upright. 

Start to bend into the right knee and lower down with control. 

Push back up and return to center. 

Work your way up to 15 repetitions and then repeat on the opposite side. 
This exercise is best for the hip flexor and muscles of the inner thighs. Give it a try by: 
Standing with your feet slightly wider than hip-width apart and turn your feet slightly outward. 

From here slowly push your hips back and squat down, trying to keep your back straight and your upper body lifted. 

Slowly return to the starting position. 

Repeat 20 times.
Adding these exercises into a weekly strengthening routine will make a difference in your overall biking performance. You'll start to notice an improvement in your performance and a decrease in soreness and recovery time from long rides. Happy biking. 
Works Cited
Burke, E. R. (1983). Improved Cycling Performance Through Strength Training. National Strength & Conditioning Association Journal, 5(3), 6. doi:10.1519/0744-0049(1983)0052.3.co;2
Other Great Rehab Related Articles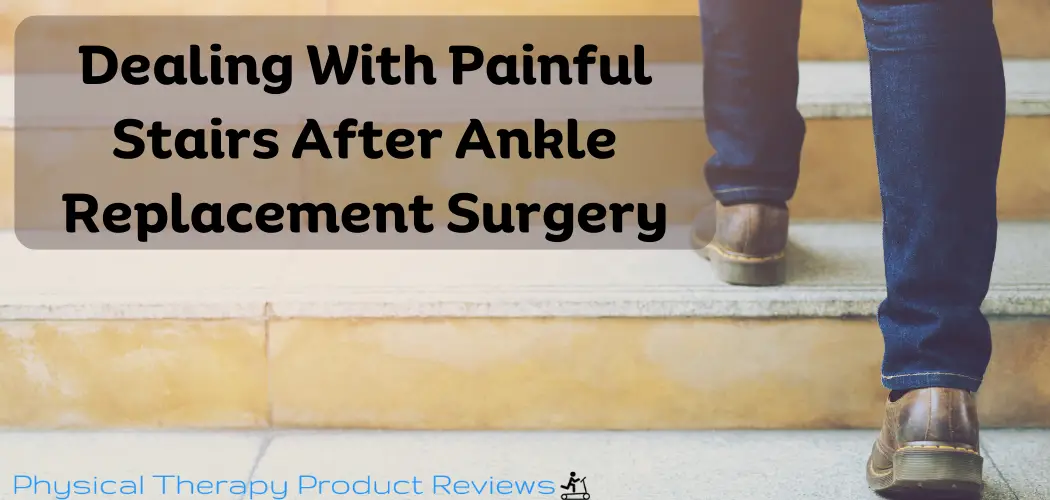 After undergoing an ankle replacement surgery, patients may experience pain when climbing stairs. The level of pain can vary from mild discomfort to severe pain,
Disclaimer: The information provided in this post is for educational purposes only. This is not a substitute for a medical appointment. Please refer to your physician before starting any exercise program.