Back pain is no joke. It can range from an annoyance to debilitating, depending on the severity of the injury and the person's tolerance for discomfort. While back braces are not a cure-all, compression back braces have been shown to be helpful in treating mild cases of lower back pain by providing compression and support to the lumbar spine.
There are times that it is beneficial to wear compression back braces and then there are times you should try and go without them. Don't worry we'll go over all those difficult decisions.
The best compression back brace should provide good compression without being too tight or restricting breathing ability. This article will help you find the best compression back brace for your needs.
Comparison Table for Back Compression Braces
What is a Compression Back Brace?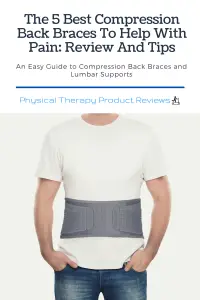 A compression back brace is a close-fitting elastic garment that helps provide compression and support to the lower lumbar spine. It can be worn over or under clothing, depending on individual preference and fit but most people prefer to wear it under their clothes.
These compression braces come in a variety of sizes and can be tightened to fit your body well and should not cause any pain when you wear them. The compression brace can add extra support to the back which in turn reduces back pain and muscle tightness.
What are the Different Types of Back Braces?
There are two main types of compression braces, similar to the compression stockings that we all know and love. There is a nylon version and an elastic version. They both work in very much the same way just made out of different material:
Nylon Compression Back Brace
These compression back braces consist of a strong nylon material with foam inserts in the lumbar area to provide compression and support. These also typically have adjustable tightening systems to change the amount of compression.
Elastic Compression Back Brace
These compression braces are made out of a stretchy elastic material that also provides compression but may not be as durable or strong as nylon compression back braces. These typically come in small, medium, large sizes so it is important to measure your waist size before ordering to ensure that you get enough compression.
Compression Back Braces are Great for Playing Sports with Less Pain
This compression back brace is one of the best compression braces for playing sports. These are lightweight compression back braces made out of breathable fabric so you can wear them during sports without overheating.
These braces still allow you to be mobile and flexible during your sport while adding a little support.
These compression back braces have an open front for easy dressing and undressing while providing compression to your lower lumbar spine, which helps with pain management. These compression braces also have mesh panels on the sides to provide increased ventilation while playing sports.
Are Back Braces Bad for You?
Back braces are designed to relieve compression, provide support and reduce pain. Back braces can be harmful or cause adverse effects if you wear them and don't need them, as this can cause you to rely on the brace to cause weakness in your back muscles.
In some instances, you should avoid wearing a back brace until you're given the go-ahead:
Injuries that have compromised skin integrity – open wounds, ulcers, and incisions should not be compressed.
The injured area is numb or has decreased sensation – compression can cut off blood flow to the injured part of your body which could cause further damage.
When Should you Wear a Compression Back Brace?
There are many benefits to compression back braces, and you should wear them if they help with your pain or injury:
Mild lower-back pain 
compression can be beneficial in reducing mild forms of low-back pain such as a sprain, pulled muscles/ligaments. They will also provide compression, which helps the injured area heal faster than if compression were not used.
Moderate lower back pain 
compression can help with moderate forms of low-back pain such as a herniated disc or fractured vertebrae by supporting the spine while it heals.
It will also provide support for weak muscles that are needed to maintain proper posture. These compression braces should be worn while you need them but not longer than you need to for the first few weeks.
Severe lower back pain 
compression may or may not be helpful depending on the severity of the injury and whether your doctor feels compression should be used. However, compression can help with some symptoms such as discomfort while maintaining proper posture, muscle spasms/cramps that interfere with sleep, and pain when standing for prolonged periods.
When to Avoid wearing a Compression Back Brace?
In these cases, compression back braces should not be worn.
If you no longer have pain or discomfort with activity. Using a back brace can impede your muscle strength and development.
You cannot maintain proper posture while wearing compression back braces or interfere with other activities like sleeping, showering, or walking.
If you have open wounds, ulcers, or incisions where compression could cause further damage by cutting off blood supply, these compression braces should be avoided.
If compression is causing discomfort, these braces should not be worn. Listen to your body, and don't force yourself to wear the brace if it hurts or causes more pain.
How Long Can You Wear a Compression Back Brace?
Depending on the injury, compression back braces can vary in length of time to wear them:
Mild lower-back pain – compression should be worn during strenuous activity or lifting activities until you feel better. This may be 1- 4 hours a day.
Moderate lower-back pain – compression brace can be worn a little bit longer in these situations. You can wear it during cooking, cleaning, and even at work, but try to take it off when you are just resting or sleeping. This may be 4-6 hours a day of use.
Severe lower-back pain – compression can be helpful if you are wearing it to manage severe back pain. Feel free to wear it when you are up and moving but take it off for short periods. This may be for 8-12 hours a day. Your doctor may change this depending on the severity of the injury and whether compression is helping or not.
Compression braces should never be worn during sleeping which means taking them off before bedtime. This can help avoid irritation of the skin or any other pressure injuries to the skin.
How Often Can You Wear a Compression Back Brace?
Try not to wear a back brace unless you need it. For example, this can be after an injury, after surgery, or during strenuous activities.
Sometimes it also makes sense to wear a back brace during certain activities such as driving, prolonged standing, or working.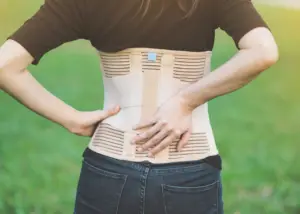 Compression braces should not be worn regularly for no reason as you could lose muscle strength, and compression can make these injuries worse. It is best to wear compression only when it helps with the pain and discomfort levels before doing any activities that might help again.
Tips to Make Your Compression Back Brace Last
Compression braces should be replaced when they cannot provide enough compression or support anymore. We do recommend cleaning them periodically as they can accumulate sweat and dirt over time. Be sure to check and see if they can go in the washing machine as not all back braces can.
Avoid stretching the brace out unnecessarily, such as loaning it to a friend or leaving it in a hot car window for hours on end.
The 5 Best Compression Braces for Back Pain
Summary: The Sparthos compression back brace helps with many different back injuries 
The adjustable support system allows you to find that perfect compression and the vertical support helps to stabilize the back which is perfect for lifting.
The slim design makes it easy to wear underneath your clothes as opposed to most back braces that can only be worn on the outside of the clothes. 
It's easy to use and provides enough compression for almost all back injuries that are mild or moderate.
FEATOL Compression Back Brace Support Belt
Summary: The Featol compression back brace is a comfortable neoprene back support.
It comes in a variety of sizes so be sure to measure your waist around your belly button to get the best fit.
This brace works well with almost all back injuries and can provide relief during activity from nagging back pain.
We particularly like the neoprene breathable fabric. This is especially nice for anyone that's a heavy sweater so that you can stay comfortable and still wear the braces when you need it.
Compression Back Brace by BraceUP
Summary: The Brace Up back brace is one of our favorites because it's smaller and lightweight than most back braces, making it more mobile and comfortable to wear with lots of activity.
This brace is effective against most back injuries and provides relief from troublesome back pain.
Our favorite thing about this brace is the amount of compression and support it can give the back while still being lightweight and slim to allow for an adequate range of motion.
It's small enough it can be worn underneath clothes and they have a 100% customer satisfaction guarantee so you can return it if you don't like it.
Copper Compression Slim Back Brace w Extra Support
Summary: The Copper Compression Back Brace is another slim back brace that works well with almost all back pain and injuries. 
The slim design can be worn underneath the clothes and it is made from breathable material to help with comfort and moisture control.
You can easily adjust the amount of compression with straps which are easy to use. This brace is infused with copper which may help with healing.
Summary: The Berter low back compression brace is a little bit bigger than some of the other options. This works for most serious back injuries and can be worn underneath or on top of clothes. 
We love the lightweight material and breathability of the brace. Even though the brace is lightweight it's made of durable material and lasts for a long time of use.
Conclusion
The compression back brace is a great way to get relief for your pain and discomfort. It can make it easier to move around, take less time off of work, exercise better or even go about daily activities without feeling quite as much strain on your body. Be sure that you are only wearing the compression back brace when needed and not more than you should.
There are many different types of compression back braces, so even though they can help with pain relief in the same general areas, there might be some that will fit better or feel more comfortable to wear than others for you personally. Be sure to check out our other posts on strengthening exercises for back pan.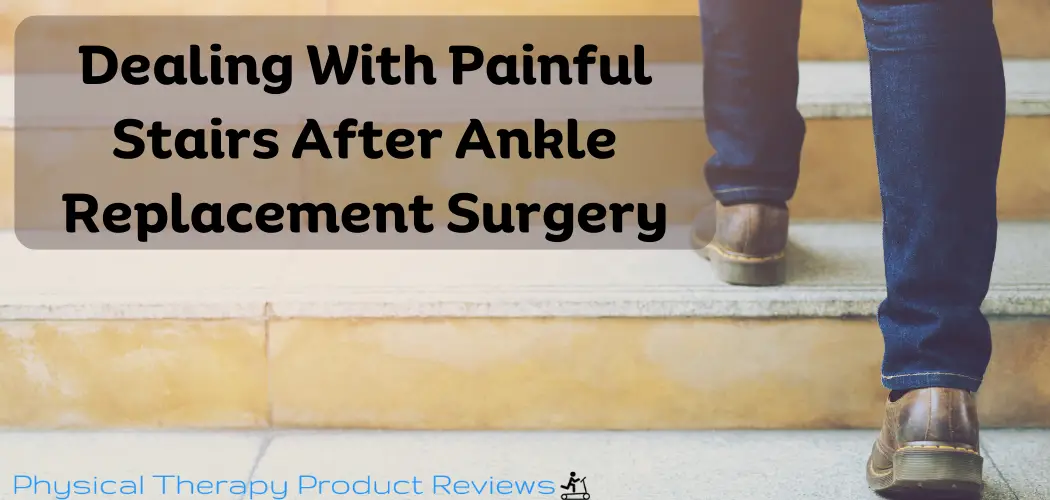 After undergoing an ankle replacement surgery, patients may experience pain when climbing stairs. The level of pain can vary from mild discomfort to severe pain,
Disclaimer: The information provided in this post is for educational purposes only. This is not a substitute for a medical appointment. Please refer to your physician before starting any exercise program.