Working out from home has boomed over the past few years. With our busy schedules and health concerns, it's no surprise that working out at home has continued to be popular even after the pandemic.
With that increase in popularity, companies have focused on creating equipment to make working out easier at home. Think of Peleton, Tidal, and workout companies such as iFit. We are the ultimate advocate for working out at home.
With the increase in new ideas, we've been testing home workout equipment.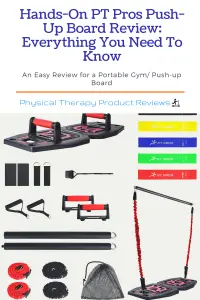 PT PROS has created a push-up board to help you take your workouts to the next level. Not only is it a push-up board, but they intentionally created a portable gym to provide total body workouts at the same time.
We were able to get our hands on a PT PROS push-up board and integrated it into our workouts.
In this blog post, we will take an in-depth look at the PT PROS push-up board and everything that comes with it. We will also discuss how to use it, the pros and cons, and our final recommendation.
What is a Push-Up Board?
A push-up board is a portable device that you can use to target specific muscle groups while performing a push-up. These are typically made of plastic and, at the minimum, come with two handles.
They come with different color-coded push-up handles that you change the location of to work with other muscle groups. These muscle groups include your chest, shoulders, and triceps.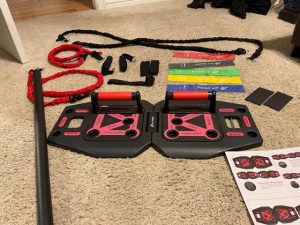 One of our favorite features of the PT PROS push-up board is that it is also a portable gym. With accessories that come with the board, you can perform other exercises that strengthen the back, legs, core, and the rest of the body.
Each push-up board offers something a little different. Some provide different variations of push-ups, while others include resistance bands and accessories to allow you to perform more exercises.
What are the Benefits of Using a Push-Up Board?
There are several benefits to using a push-up board. First, it is an effective way to target specific muscle groups. The varying handle positions help focus on different parts of the chest and shoulders.
Second, it is a great way to mix up your workout routine. The different angles, hand placement, and additional use of the resistance bands add the variety our muscles need.
Third, it is relatively inexpensive and does not take up much space. Push-up boards are foldable and easy to store. Even with the additional accessories, the price is low compared to other exercise equipment.
And fourth, you can use it at home with little or no setup. It's easy to use and doesn't require an extensive exercise background.
When it comes to the PT PROS push-up board, we were impressed with how many exercises you could do with it. Not only are there different variations of push-ups, but you can also use them for tricep dips, rows, and more.
Other benefits of using a push-up board include:
Helps maintain or improve wrist health
Inexpensive additions to the workout space
Increases motivation and mixes up the normal routine, adding variety
Allows for a better workout
What's Included with the PT PROS Push Up Board?
What makes the PT PROS push-up board unique is that it offers more than simply a way to modify your push-ups.
While it does offer all of the various push-up positions, it also provides an option as a portable gym.
When you purchase the PT PROS push-up board, you will receive the following:
PT PROS push-up board with labeled slots for the push-up handles
A Set of Mini Loop Bands
4 Long resistance Bands with a protective covering
A Long Workout Bar for squats and shoulders
Door Anchor
Carrying Mesh back
2 different sets of handles – 1 for the resistance bands and 1 for push ups
Non-slip foam pads for the bottom of the board to use on slick surfaces
The mini loop bands are great for hip, shoulder, and leg exercises.
While the long bar and resistance band combo allows you to perform weighted squats, lunges, and shoulder exercises.
The goal of the additional accessories is to provide the options for a total body workout in a small space at home.
PT Pros Push-Up Board Workout Guide
A workout guide is not included with purchasing their push-up board; however, some PDFs are available for a week's workout routine using their board.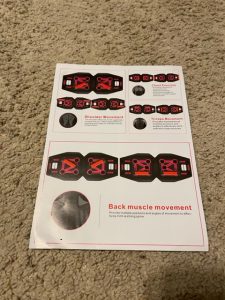 We are happy to share that PDF here. You can click on the image and print it to save for home use.
Assembling the PT Pros Push-Up Board
The PT PROS push-up board is easy to assemble. The first thing you need to do is screw in both sections of the long workout bar to each other.
Once that is done, you can attach the door anchor above the door for other resistance exercises.
Finally, unfold the push-up board and lay it flat on a surface that you can work out.
If the service you are working out on is slick, you can place the non-slip pads on the bottom of the board to prevent it from sliding.
We also like to use it on top of a yoga mat to keep it from moving around in our garage, and it also picks up any dripping sweat.
Now you are ready to use your PT PROS push-up board and explore your favorite exercises.
Exercise to Do With the PT Pros Push-Up Board
The PT PROS push up board can be used for a variety of exercises, including but not limited to:
Different Push-up variations with moving the handles around

Standard Pushups
Wide Pushups
Narrow Pushups
Tricep Pushups

Shoulder Presses with the handles

Also, variations with the bar

Rows with the bar or handles and resistance bands
Tricep Dips
Squats with the bands and the bar
Lunges
Leg Raises
Thrusters
And many more options; there are simply too many lists
The PT PROS push-up board is unique. It offers a variety of ways to modify your pushups while also providing options for other exercises to target different muscle groups.
Why we Like The PT Pros Company

The first and most obvious reason we like the PT Pros is that they are physical therapists first and foremost.
That means that this product's care and attention to detail are apparent. The owners didn't go for the cheap plastic and wanted to make something useful in fitness and helpful in the home.
Fitness professionals designed this push-up board and the portable gym, thinking of the best way to exercise in the smaller space possible.
Who else is better to come up with that idea than a Physical Therapist?
Pros and Cons of the PT Pros Push-Up Board
Pros:
PT owned and operated
Quality materials used
Offers a variety of exercises to do with one product
Portable and easy to carry
It offers more than push up variations
Cons:
No video tutorial or pictures for guidance
The workout guide is only available online and is limited
Want to learn more and check out the latest price? 
An In-Depth Review of the Components
The Push-Up Board
The PT PROS push-up board is a high-quality, well-made product. The board itself is made of thick, durable plastic.
It has three different color-coded holes for handles that you can move to create different variations of pushups.
The board folds up nicely to make it easier to carry and store out of the way to avoid dripping.
Compared to some of the other push-up boards that we have tried, the plastic is more durable, thicker, and of higher quality.
The Adjustable Handles
The handles that come with the PT PROS push-up board are soft foam material. They are comfortable gripping and do not rub your hands raw like some of the other boards we have tried.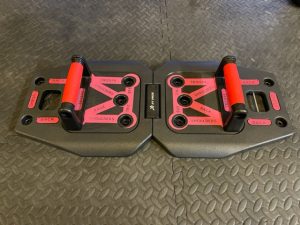 One thing to note is that the handles are removable, making them a little bit unstable if they are not correctly placed in the designated place.
Mini-Loop Bands
The PT PROS push-up board comes with a mini-loop band set. These can be used to add resistance to your workout routine.
We like that they come in different resistance strengths and can be removed if you do not want to use them.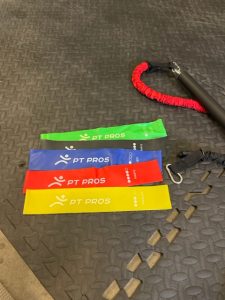 There are labeled with the PT Pros logo and thus far have been durable and lasted through all of our workouts.
We love these mini loop bands for strengthening the hips and the shoulders.
Long Resistance Bands
The PT PROS push-up board also has two sets of long resistance bands. These can be used to add resistance to your workout routine.
These are also color-coded by resistance and can attach to both the handles and the workout bar.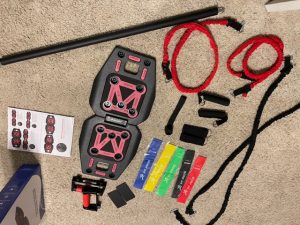 We have not had any issues with these bands, and they appear to be durable and of good quality.
They offer good resistance, especially when combined and used simultaneously with the workout bar.
Workout Bar
The PT PROS push-up board comes with a workout bar. This is a sweet accessory that not many other push-up boards offer.
The workout bar is awesome for squats, lunges, and back exercises, especially when combined with the long resistance bands.
Door Anchor
The PT PROS push-up board comes with a door anchor. This is used to anchor the long resistance bands to a door for back exercises.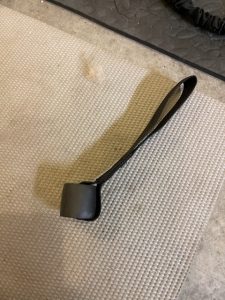 We have not had any issues with the door anchor, and it has been great to use for back exercises and arm strengthening.
It's easy to use and does not damage your door.
How Much Does a Push-Up Board Cost?
At the time of this writing, the retail price is around 75$; however, there has been a recent sale that has fluctuated between 55$-65$.
Compared to other products that offer similar workout options, this is somewhere between 50$-100$ less expensive. To compare the price, we've included two other options below with similar features and styles.
See some of the similar examples below:
Our Final Recommendation
We think the PT PROS push-up board is an excellent addition to any home gym and highly recommend it.
Of all the push-up boards that we have tested, this is our favorite because of its versatility, different accessories, and high quality.
It's easy to set up, and you can do various exercises with it. We would only like to see some video tutorials or pictures for guidance on the website.
We highly recommend this product to anyone looking for a push-up board or a portable gym. PT PROS has created an excellent product that we think you will love.
Do you have any questions about the PT Pros Push Up Board? Leave us a comment below, and we will do our best to answer them.
Happy workouts!
Disclaimer: The information provided in this post is for educational purposes only. This is not a substitute for a medical appointment. Please refer to your physician before starting any exercise program.