An Introduction To Vertical Climbers
It isn't too often that we have new cardio workouts to talk about. There's always a new "7-minute burst" sort of workout going around, particularly in the age of exercise apps, and every now and then a new twist on a standard treadmill generates some buzz. Then of course there are trends such as the Peloton bike, or some of the VR-based fitness machines expected to become big in the next year or so. Even most of these things however are variations more than actual, new workouts.
The last three or four years though have brought about a new branch of home- and gym-based cardio equipment, however, with the widespread introduction of vertical climbers. While these are not new inventions, they were somewhat obscure until fairly recently. Now, they appear to be becoming quite common.
Some of the links in this post are affiliate links. This means if you click on the link and purchase the item, we will receive an affiliate commission at no extra cost to you. All opinions remain our own.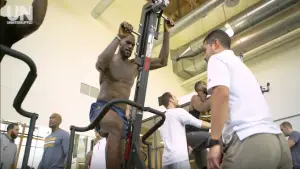 In part this can be accredited to NBA star LeBron James. The narrative surrounding James has cooled somewhat during his disappointing first season with the Los Angeles Lakers, but in recent years he's been the biggest persona in sports. He led the Cavaliers to the 2016 title and displayed consistent MVP form, most notably excelling physically the later he played into the season. James's prowess in the playoffs was so great during these years that he helped teams of role players challenge the greatest dynasty in decades; there were playoff prop bets about whether he might average a triple double in the playoffs. James himself was simply larger than the game of basketball, or the NBA.
This is mostly thanks to his otherworldly talent. Yet it's also a result of his incredible fitness. James, for all of his gifts and skill in the game, became what he was through a relentless and innovative fitness routine, even becoming famous for supposedly spending upwards of one million dollars each offseason just on his body. And as of a couple years ago, part of James's vaunted routine came to include sessions on a high-end workout machine called the VersaClimber. This is not to say that it represented his whole routine, nor that he was the first to discover it. However, the machine made such an impact on James that he had his whole Cleveland team using them, and there were even television segments about the team adopting the machines. People were able to see NBA athletes – some of the fittest people in the world – sweating after just minutes on the machines, and discussing their impact and benefits.
Granted not everybody pays attention to the NBA even where James is concerned, but the timing of the stories seemed to coincide fairly directly with growing interest in the VersaClimber, and with climbing machines in general. Those who bothered to research these machines, rather than just taking James's word for it, found that there are numerous benefits to the workouts, including difficulty, calorie burning efficiency, general convenience, and a full-body effect. There's no point in declaring climbing machines to be better or worse than any other popular cardio machines – the most well-rounded workouts should still take advantage of multiple types of exercise anyway – but almost overnight people seemed to realize that climbers belonged in the same class as other, more popular machines and methods.
Now, a couple years into the trend, there's a whole market of vertical climbers that are more accessible than yet similarly effective to the VersaClimber. Unfortunately the specific machine favored by LeBron James and his former teammates can cost about $5,000 – no big deal for James or an NBA organization, perhaps, but a bit much for most people's home gyms! The VersaClimber is undeniably a more heavy-duty option with some nice features and general smoothness and stability. But the actual workout can be just as good with a lot of machines that may cost only $150-$300 or so.
As with most gym equipment, we'd still recommend a "try before you buy" approach with vertical climbers. However, it appears that they're here to stay as mainstream cardio machines. And as has now been proclaimed by everyone from LeBron James to the droves of people reviewing cheaper machines online, they can be extremely effective.
Disclaimer: The information provided in this post is for educational purposes only. This is not a substitute for a medical appointment. Please refer to your physician before starting any exercise program.