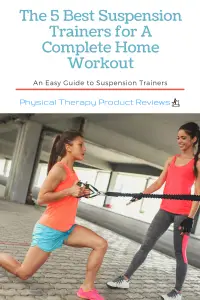 A suspension trainer is a great tool to have for any home gym. They have gained popularity in recent years due to their effectiveness, how easy they are to use, and the inexpensive value that they offer. There is no other piece of workout equipment that can be used for so many different workouts and different muscles. If you have a home gym or are looking to start one a suspension trainer is a must-have.
Today, there are many different choices of suspension trainers to choose from but not all are created equal. To save you the headache in choosing we have compiled a detailed review of the best suspension trainers for your home exercises.
What is a Suspension Trainer?
The suspension trainer was introduced by Randy Hetrick, a former Navy Seal and Stanford MBA graduate in the '90s but didn't market the product until 2005. His focus for his invention was to develop strength, balance, flexibility, and at the same time promoting joint stability with one single piece of equipment.
Suspension trainers vary by each model but are often made of two long pieces of heavy-duty nylon straps that are anchored securely to a door, ceiling, or stable object. Suspension trainers can truly attach almost anything.
At the other end of the nylon straps are two handles or sometimes rings which can be used in many different ways. The handles do come with a bottom loop that can be used as foot clips. The length of the straps is usually adjustable using a simple clip. This simple yet effective design allows each arm or strap to move independently of the other one.
How Does a Suspension Trainer work?
Suspension trainers work by using the body weight as resistance and can achieve a truly whole body workout. There are no limits to the body part being worked, the location the exercises are being performed at, and they require no fancy setup.
To use a suspension trainer try to anchor it 6-9 feet from the floor. Then adjust the nylon straps to the proper length for the exercise. In general, the longer the straps are adjusted the harder the exercise will be. If the exercise is too difficult, simply shorten the straps and try again to achieve the proper resistance.
What are the Benefits of using a Suspension Trainer?
Some of the benefits you can expect from using a suspension trainer include;
Great for Core Stability and Limb Strength

Great versatility that can be taken with you anywhere

Improvement in Balance and Coordination

Increase in Muscle Size and overall strength

Indoor Use (such as at home) and easy set up

Improve Cardio Fitness and Strength

Inexpensive quick workouts requiring minimal equipment
What to Consider when Purchasing a Suspension Trainer
Before buying a suspension trainer product, you need to consider many different factors.
Two Point vs One Point Suspension: The two-point mounting system allows for the width of the straps and handles to be changed based on the exercise. This allows for differences in body shapes and targeting specific muscles. Single point mounting systems do provide ease of use once they are set up but not the variability of the two-point system.
Ease of Use: The suspension trainer should be easy to use for any purpose. This includes changing the length of the nylon straps, to how easy it is to hang up and how easy is it to put away.
Handle Type: The other option to consider is the type of handles being used. The foam handles may wear, deform, and break down over time. Rings may be too big or small for some hand sizes, and plastic handles may chip or become slippery with sweat.
Quality of Material: The material used in its production must be of high-quality and durable. There are many times where you may be tying the straps in a knot, loading them with a lot of weight for some people, and asking for them to last a long time.
Value: After taking all of these into consideration you also need to consider if the most expensive models with all the bells and whistles are what you really need. Depending on your goals a less expensive but durable model may be the best for you.
FAQ about Suspension Trainers
Comparing the TRX to other Suspension Trainers?
The most famous and common suspension trainer is the TRX trainer. All of the other suspension body-weight trainers are compared to the TRX. While the TRX is a great option, especially for those that are serious workout fanatics.
With that being said, some of the other options work great for the average person looking for a great workout at home. I personally have the Ritfit trainer at home and love it.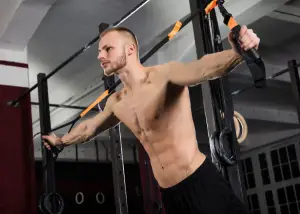 How to anchor a Suspension Trainer?
You have a couple of options and it depends where you have the most room.
Most of the suspension trainers come with a door anchor that makes it easy to use on any closed door.
If you want to support it from the wall or even the ceiling you can use a suspension trainer mount. We've used it in the garage and mounted it to the ceiling.
How to Adjust a Suspension Trainer?
You can adjust the suspension trainer height by easily adjusting the straps. Each strap usually has a buckle that you can easily lengthen or shorten the strap. 
Be sure to measure the length of the strap when mounting the strap to the wall so that you can adjust the length. 
The 6 Best Suspension Trainers
Here are the 6 best suspension trainers based on experience, cost, and reviews.
TRX All-In-One Suspension Trainer
Summary: The TRX All-In-One is a recommended choice for anyone who travels a lot. It comes fully packed with everything needed to start training with a suspension trader. It is suitable for all skill levels, and is one of the most durable. Most people may not have heard of suspension training before but they have likely heard of a TRX.
Pros
Suitable for beginners

Movement-based training

Compact

Value for price

High-quality material
Cons
No ceiling mounts

Might need to constantly adjust straps.
RitFit Bodyweight Resistance Training Kit
Summary: The Rit Fit suspension trainer is an affordable all-in-one alternative.  It comes with multiple anchoring options, comes with a carrying bag, and is a two-point system. It also includes a workout booklet you help you get started on the right exercises.
Pros
Portable and easy to pack

Not expensive and good quality for the price
Cons
Extension strap can be better
Intent Sports Suspension Trainer
Summary: The Intent Sports Suspension Trainer is a very affordable suspension trainer with a premium design and good quality. It has multiple anchor point options including a two-point option or a single point option. It has great reviews on Amazon and one of the best bang for your buck options.
Pros
Very affordable

Comes with a carrying bag

Beginners friendly

Durable and high-quality material
Cons
Control during a workout might be problematic
FLPLX Bodyweight Resistance Training
Summary: If you are looking for a suspension trainer that is easy to install, here it is. The FLPLX Suspension trainer comes with multiple anchoring options, and also includes additional resistance bands! It can support body weights up to 400 lbs and also includes an exercise e-booklet.
Pros
Easy to install

Budget-friendly

Includes resistance bands

Comes with an E-book for exercises
Cons
Keafols Suspension Trainer
Summary: The Keafols Suspension Trainer is the least expensive trainer on our list. It is made of a durable material and could be used by anybody irrespective of training level. It is easily adjustable and made from high-quality material. This does not however come with a foot strap below the handle.
Pros
 Sturdy straps

 High quality

 Great value for money
Cons
No manual

Need to change from hand to feet attachment
Conclusion
A suspension trainer is a great way to build muscle, lose weight and also improve overall fitness. They should be a key part of any home gym or exercise routine. Suspension trainers may be the best exercise equipment for those that travel a lot and don't want to lug around equipment. 
Other Great Rehab Related Articles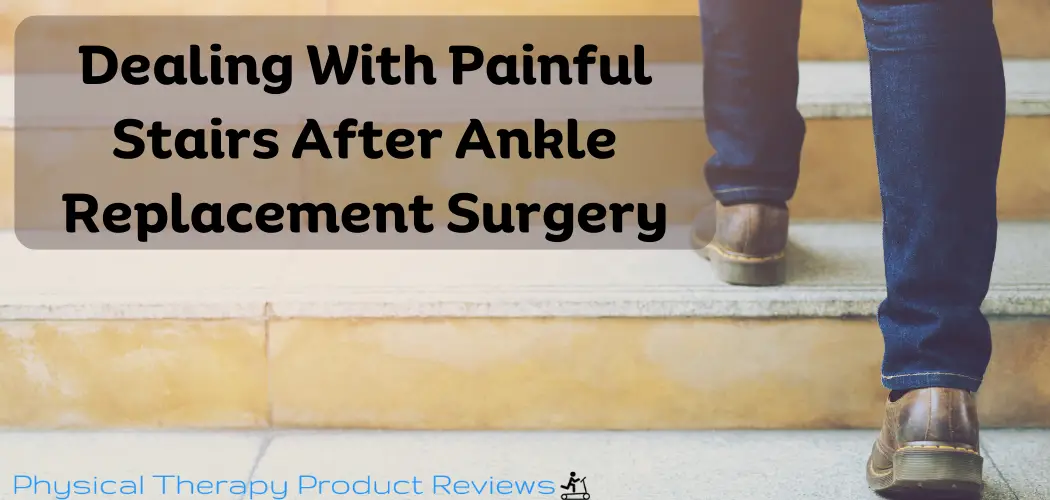 After undergoing an ankle replacement surgery, patients may experience pain when climbing stairs. The level of pain can vary from mild discomfort to severe pain, ...
Disclaimer: The information provided in this post is for educational purposes only. This is not a substitute for a medical appointment. Please refer to your physician before starting any exercise program.