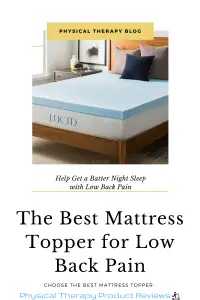 Back pain is the number one leading cause of disability worldwide, and also one of the most common reasons that people miss work. Having lower back pain can be extremely frustrating, especially when it limits the type of physical activity you're able to engage in. Many solutions exist to remedy back pain and alleviate some of the pain, stiffness, and aching that are associated with back issues. In fact, there's a solution so easy, you can do it in your sleep (literally). One of the best ways to ensure that you start the day pain-free is to make sure you're sleeping on the right mattress. But if you can't afford to buy a new mattress, how can you ease your back pain while you get your beauty sleep? The answer; a mattress topper.
What are Mattress Toppers?
Simply put, mattress toppers go on top of your mattress. Not to be confused with mattress protectors, mattress toppers are sheets of padding that fit on top of your mattress to provide extra cushioning. They come in different thicknesses and materials, so it's best to find the right fit for you according to your preferences. There are options that are firmer and provide more solid support, and options that are softer and provide less support but more cushioning. Whichever type you choose, using a mattress topper for lower back pain will be physically effective and cost-effective.
Who Would Benefit from a Mattress Topper?
If you have lower back pain and your mattress is fairly worn out or provides the wrong kind of support, you would benefit from a mattress topper. Does your mattress feel too soft and leave your spine unsupported? A mattress topper made of firm material will help. Did you buy a new mattress that feels too rigid and firm? There are soft, pillow-like mattress toppers that will make your bed more comfortable.
Although people often picture the elderly when they think of someone with an aching back, multiple age groups are regularly affected by lower back pain. In fact, more than 80% of us will have an issue with lower back pain at some point in our lives. This includes people in their teens, 20s, 30s, and up. There are several causes for lower back pain, ranging from chronic issues to isolated incidents caused by trauma or injury to the spine or surrounding muscles. Common causes of lower back pain in young adults are degenerative disc disease, herniated discs, and muscle strain from excessive lifting. In middle-aged and elderly populations, common causes of lower back pain include osteoarthritis, spinal stenosis, and herniated discs as well.
How To Use a Mattress Topper?
The first step when using a mattress topper is to take it out of the package. This may sound self-explanatory, but you want to make sure that you allow the topper enough room to expand once it's been opened. Another thing to consider is that it may need to off-gas, or air out manufacturing odors, before you put it on your mattress. Once it's been aired out and allowed to expand, you can prepare your mattress. You should remove any protectors, sheets, mattress pads, etc. before putting the topper on. Once you have your mattress topper aligned with your mattress, you can put a mattress protector back on if you have one, and then put your sheets and bedding back on. Once that's done, time to test it out! Sleep soundly on your newly-outfitted bed, and rest in the fact that you've made a good choice for your back.
Once you've had your mattress topper on for a few months, it'll be about time to clean it. Because mattress toppers are made with multiple different materials, there's no one perfect way to wash all of them. It's best to consult the packaging to find what method is acceptable for cleaning. When it's all clean and dry, it's a good idea to make sure you place it back on the mattress in a different position than it was before. The reason for this is the same reason rotating your mattress is recommended; it keeps your mattress pad from receiving too much wear in one area, prolonging its use.
What to Look for in a Mattress Topper?
Finding the right sleeping situation is key for lower back issues because we require the right amount of support to keep our spine in alignment, and the right amount of softness to cushion our joints. We spend almost a 3rd of our lives sleeping on our mattresses; they should be tailored to fit our specific needs. Here are a few areas that you should consider when looking for a mattress topper:
Material
Mattress toppers are available in many different types of material. The main types are latex, memory foam, feathers/down, and polyester blends. These all come with their specific functions, and it's important to choose the right type for you. Latex tends to be firm and bouncy, while memory foam is supportive but not quite as firm. Polyester and feather toppers are not as supportive, but provide a lot of softness and cushioning. Latex and memory foam both reduce motion, which helps keep sleeping partners from waking each other when they adjust or move during the night. Latex, memory foam, and polyester can trap heat, making them slightly hotter than feather toppers. However, feather toppers can cause discomfort when feather shafts occasionally poke through the topper, and they can also cause allergies if you have down sensitivities. Synthetic pillow-top comforters can solve this problem, but they still can retain heat and can become lumpy over time. These are all factors to consider when choosing the right mattress topper to alleviate back pain.
Weight/Density
Mattress toppers come in varying degrees of thickness, which affects their weight and support. Latex toppers provide very firm support, while feather and poly blends are quite soft and not as supportive. Memory foam provides medium-firm support, making it a comfortable choice for multiple different lower back issues. The type you need depends on your specific pain and talking to a healthcare professional before buying never hurts.
Cleaning
Cleaning methods can vary widely between the different types of mattress toppers. This is why it's best to consult the instructions on the packaging when you buy it. Memory foam and natural latex toppers have to be cleaned by hand, which can be a time-consuming task. Polyester mattress toppers can be washed in the washing machine and put in the dryer on low heat, then hung dried. Feather/down mattress toppers are a bit different, and need to be aired out outside every six months or so. Besides this, they should be deep cleaned once or twice a year, and most of them can also be placed in the washer and dryer.
Durability
Some mattress toppers fare better than others when it comes to wear and tear. Usually, the more expensive toppers will last longer, because cheaper material will break down quicker. Latex and memory foam are both pricier than their alternatives but stand the test of time quite well. Polyester blends can form lumps over time, and also tend to compress and become thinner with use. Similarly, feather/down toppers can become lumpy due to feathers settling and shifting. Unlike poly blend toppers, down toppers with lumps can be readjusted by shaking the topper to redistribute the feathers.
Mattress Topper: Our Picks for Best Tippers fo Lower Back Pain
Best Overall Mattress Topper – Tempur-Pedic TEMPUR-ProForm Mattress Topper
Tempur-Pedic is a brand that has made a name for itself in the mattress industry, and with good reason. Their innovative mattress technology results in customizable, luxurious options that provide the perfect features for your needs. This Supreme 3-Inch Queen Mattress Topper is designed to respond to your individual temperature, weight, and shape to provide maximum comfort.
Pros:
   

  Time-tested brand with a happy customer base

      Offers a 25-year limited warranty

      More durable than average memory foam toppers

      Cooling model available
Cons:
     

expensive

      strong chemical odor requires airing out

      original model can retain too much heat when sleeping, and cooling model is much more expensive
Best Budget Mattress Topper – LINENSPA 2 Inch Gel Infused Memory Foam Mattress Topper Full
The Linenspa mattress topper is much more affordable than its competitors, and still provides additional cushioning to your mattress. With cooling gel beads built in, LINENSPA has kept your comfort in mind. Composed of memory foam, this mattress topper conforms to your body to cushion you while you rest.
Pros:
 

affordable

 

cooling technology built in to prevent overheating

 

no odor when opening package
Cons:
     

material can wear out/flatten faster than thicker toppers

     

can still overheat

     

some said it did not expand to fit the full size of their mattress
Best 3 Inch Mattress Topper – LUCID 3-inch Gel Memory Foam Mattress Topper
The Lucid 3-inch mattress topper is also budget-friendly, and has a thickness of 3 inches. It also features a 3 year warranty for peace of mind. It consists of cooling gel and a ventilated design so that excessive heat isn't trapped while you sleep.
Pros:
  affordable

  cooling gel and ventilation to reduce heat retention

  3-year warranty
Cons:
  can be too soft/not supportive enough

  can wear down more quickly than expensive models

  can still retain a significant amount of heat
Best Down Mattress Topper – Duck & Goose Co Premium Mattress Topper
The Duck and Goose Co mattress topper is made of a down-alternative gel fiber that will give you the feel of feathers without the allergens. Designed to fit securely on your mattress, you won't have to worry about the Duck & Goose topper slipping and sliding around your mattress while you sleep.
Pros:
  affordable

  similar feel to feather toppers without allergens

  does not retain heat like memory foam

  can be put in the dryer to even out filling

  2-year warranty
Cons:
  cannot be washed in top-loading washing machines

  may be thinner than described

  can flatten with use more quickly
Best Pillow Top Mattress Topper – SOPAT Extra Thick Mattress Topper
Constructed with a double-border pillow-top feature, the Sopat mattress topper will provide a lot of comfortable, plush cushioning. The hypoallergenic microfiber filling will prevent down allergies from acting up, but still provides the fluffy feeling of feathers. A cotton cover ensures breathability.
Pros:
      affordable

      machine-washable

      hypoallergenic filling

      cotton cover for better breathability
Cons:
  can still be too hot

  can lose shape quickly

  may form lumps over time
Best 4 Inch Mattress Topper – ViscoSoft 4 Inch Pillow Top Mattress Topper
The Viscosoft luxurious mattress topper has a hybrid construction of both a memory foam base and a pillow-top cover. This results in extra cushioning and comfort for you, without compromising the benefits of both materials. It also has a cooling feature that customers love.
Pros:
  4 inch thickness and dual layers provide significant cushioning

  2.5 inch temperature-neutral memory foam won't absorb heat

  1.5 inch down alternative is hypoallergenic and adds cushioning

  no odor

  washable 
Cons:
  more expensive

  may be too soft

  pillow top cover may need to be removed to experience cooling foam
Disclaimer: The information provided in this post is for educational purposes only. This is not a substitute for a medical appointment. Please refer to your physician before starting any exercise program.